The UK government is kicking off a new initiative to boost the country's cyber security sector.
Start-ups can now apply to be involved in a business accelerator program created by the Department for Culture, Media and Sport (DCMS) and GCHQ, the UK's signals intelligence and cyber security agency. In addition to financial and advisory help, it will offer access to a facility run by Wayra UK, Telefónica's existing start-up accelerator that is partially funded by the UK government.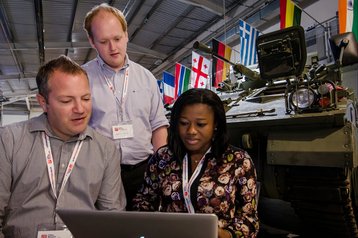 Accelerating defense
The accelerator will be based at the Cheltenham Innovation Centre, in a city that already hosts GCHQ headquarters, and is set to open around the turn of the year, with a second innovation center opening next year in London.
DCMS will contribute £50m ($64.75m) over the next five years to grow the initiative. Selected start-ups will receive a £5,000 grant, mentor support and office space.
"Wayra and Telefonica Open Future are immensely proud to be working in partnership with GCHQ on bringing further growth and opportunity to the UK's cyber security ecosystem," Gary Stewart, director at Wayra UK and Telefonica Open Future, said. 
"Our shared vision will not only safeguard the country against cyber threats but also increase opportunities for UK-based start-ups and help establish the UK as a global hub for cyber talent."
Chris Ensor, deputy director for cyber skills and growth at GCHQ, added: "I'm really excited to be working with Wayra UK and the start-ups on what is a really novel project. Combining the knowledge and experience of GCHQ staff with some of the country's newest start-ups and most creative entrepreneurs is really powerful combination and one I'm confident will deliver benefits to the cyber security of the UK.
"Cyber security is a team sport and as threats become more prolific and more complex, we should be sharing our experiences and views because there's so much we can learn from each other."
Minister of State for Digital and Culture Matt Hancock said: "We are making progress in our ambitious programme to support innovation in cyber security, grow the UK's thriving sector and protect Britain from cyber attacks and threats.
"Our two new Cyber Innovation Centres will bring together government, academic and business expertise, and will be invaluable in helping support start-up companies and develop world-class cyber technology."
The private-public partnership is one of the first initiatives to come out of the Government's National Cyber Security Programme, which has pledged to spend £1.9bn ($2.46bn) on cyber security by 2020. It has also long been involved in the Cyber Security Challenge in order to recruit promising individuals for the public sector.
Earlier this year, the UK launched the National Cyber Security Centre to focus on information security at a time of increasing global unease over state-sponsored cyber attacks and individual cyber vandalism and terrorism.
Last week, GCHQ sources claimed that Russian state-linked hackers had planned to target every Whitehall server, including the Home Office, Foreign Office and Ministry of Defence, in addition to major TV broadcasters.
The Fancy Bears (APT 28) group were apparently thwarted by GCHQ, the government sources claimed, but the truth will likely remain elusive. Fancy Bears is also thought to have been behind the leak of medical data on British athletes such as Bradley Wiggins and Mo Farah, as well as attacks on the US Democratic National Committee.
GCHQ, meanwhile, has used the growing uncertainty and fears over the rise of terrorism to call for a 'Great British Firewall.' 
Ciaran Martin, director general of cyber at GCHQ and head of the NCSC, spoke in Washington earlier this month about the need to filter content coming into the country: "What better way of providing automated defences at scale than by major private providers effectively blocking their customers from coming into contact with known malware and bad addresses?"