Digital Realty has acquired a majority stake in South African data center firm Teraco.
DR this week announced that it had bought Teraco from a consortium of investors, including Berkshire Partners and Permira, in a deal valuing the company at approximately $3.5 billion. The transaction is expected to close in the first half of 2022.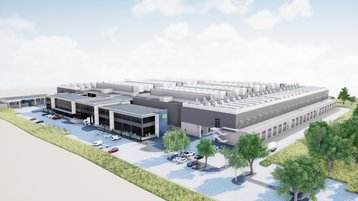 After closing, Digital Realty will own approximately 55 percent of Teraco, with the remaining 45 percent retained by a consortium of existing investors, including management, Berkshire Partners LLC, Permira, van Rooyen Group, Columbia Capital, Stepstone Ventures, and the Teraco Connect Trust. The Teraco management team will remain in place and will maintain day-to-day responsibility for operations in South Africa.
Founded in 2008, Teraco operates seven facilities in South Africa across Johannesburg, Cape Town, and Durban totaling 75MW and serving more than 600 customers. DR said Teraco has 187MW of total planned capacity, including one development project totaling 19MW currently under construction.
Teraco owns the freehold to six of its seven data centers, and owns land adjacent to its Johannesburg and Cape Town campuses able to support the development of up to 93MW of additional capacity.
Digital Realty said that Teraco's SA footprint, combined with DR's existing facilities in Nigeria and Kenya and its Mediterranean interconnection hubs in Marseilles and Athens "significantly strengthens Digital Realty's leading pan-African position."
"This highly strategic transaction immediately cements Digital Realty as the leading colocation and interconnection provider in Africa, a region experiencing rapid digital transformation," said Digital Realty CEO A. William Stein. "Teraco is the industry leader in South Africa and the continent's connectivity hub. This investment will enhance our ability to serve customers on a global basis by adding significant regional scale with a premier, network-dense portfolio in South Africa's most strategically important metros."
Teraco CEO Jan Hnizdo added: "We are excited to enter our next chapter by joining forces with Digital Realty to create a truly global, scaled platform serving our customers in Africa and beyond. We look forward to working with the Digital Realty team to extend our state-of-the-art data center and connectivity solutions to capitalize on the favorable industry trends and tremendous market opportunity."
The deal is financed through a combination of proceeds from Digital Realty's private capital and capital recycling initiatives, committed funding under the existing forward equity commitment, and other potential future financings.
Equity investors in Teraco will have the opportunity to put their interests to Digital Realty between 3.5-5.5 years after closing, while Digital Realty will have the right to call those equity interests between 5.5-6.5 years after closing.
"It has been a privilege to partner with Jan and his team at Teraco," said Drew Walker, a Principal at Berkshire Partners. "As investors in digital infrastructure businesses for nearly a quarter of a century, we're thrilled to continue our partnership with Teraco alongside Digital Realty, who will bring significant expertise and resources to the Teraco platform."
Pierre Pozzo, a Principal at Permira, added: "Over the last seven years, Teraco has transformed itself into one of the most unique data center platforms globally. It has been a pleasure to support the Company since our original investment in 2015. We look forward to partnering with Digital Realty to further accelerate Sub-Saharan Africa's digital transformation powered by Teraco."
Interest in African data centers from global operators is on the rise. In October 2021, Digital Realty acquired Nigeria's Medallion Data Centres, and its Interxion subsidiary took a controlling stake in Kenya's icolo.io in 2019. Equinix acquired west African data center firm MainOne for $320 million in December 2021, marking its first investment on the continent.