Digital Realty is to develop a new data center campus in Tel Aviv, Israel.
The data firm this week announced a joint venture with Mivne Real Estate to develop data centers in Israel and plans for a multi-tenant data center campus in Petah Tikvah.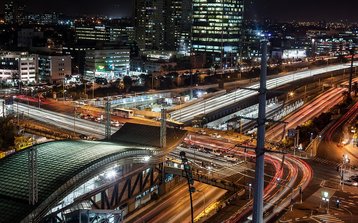 Mivne is a real estate developer, owner, and operator that reportedly has an 'extensive' land bank in the country: the company owns about 1.9 million square meters of income-yielding assets and around 780,000 square meters of land reserves.
The joint venture will operate under the brand name Digital Realty Mivne. The companies plan to develop a 20MW facility with the first phase due in 2023.
"Today's collaboration marks the beginning of a new chapter for Digital Realty's operations, customers and partners in the Middle East. We expect this partnership to further accelerate our growth while enhancing our ability to support our customers' digital transformation across the globe," said Digital Realty CEO A. William Stein. "This partnership represents consistent execution towards new market entries. We are also gratified to partner with Mivne, leveraging its extensive experience as a local investor and operator."
Mivne CEO David Zvida added: "Entering the field of data centers is a strategic growth engine for Mivne. Due to Mivne's large and strategic land bank and its extensive geographical distribution across Israel, the joint venture will be able to develop strategically located, purpose-built data centers. This strategic partnership with a leading international operator such as Digital Realty, which has proven operating capabilities and extensive relationships with international customers and suppliers, will enable us to gain leadership in the Israeli data center market."
This will be Digital Realty's first data center in the Middle East. Its nearest current facility is located in Athens, Greece. Rival colo firm Equinix has data centers in Turkey and the UAE.
AWS, Google, Microsoft, and Oracle are all developing data centers in Israel. AWS and Google were awarded the $1.2 billion Nimbus tender to provide cloud services to the Israeli government.
KKR's GTR is developing a facility in the Petah Tikva area of Tel-Aviv, while EdgeConnex last year acquired local operator Global Data Center. Serverfarm also has a presence in the country.