Digital Realty has sold a data center in San Jose, California to The Hines Group.
BizJournal reports that the data center firm has sold the two-story, 179,800-square-foot (16,700 sqm) property at 150 S. First St. – formerly the Pavilion shopping center – to the real estate company for $59.6 million.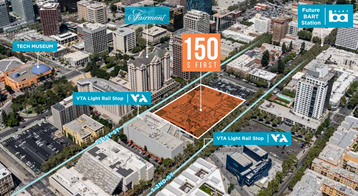 "The location has always been too prime to remain predominantly a data center," Scott Knies, the executive director of the San Jose Downtown Association told BizJournal "I am looking forward to its next incarnation under Hines ownership."
Sitting on a 2.4-acre site, the building was reportedly built around 1986 and renovated around 1999. It offers around 180,000 sq ft (16,700 sqm) of floorspace; around 130,000 sq ft (12,000 sqm) and 7.2MW for data center use, 10,000 sq ft for office, and 40,000 sq ft for retail.
Rackspace currently offers space in the facility as its SJC2 location. Digital Realty still has 12 data center locations in the Silicon Valley area; the company sold a number of Silicon Valley facilities to Menlo Equities earlier this year.
BizJournal notes it's not clear what Hines intends to do with the property, but notes the site would seem a prime candidate for redevelopment and potentially an office high-rise.
"Having this property in the hands of a national reputable development company like Hines bodes very well for really creating an amazing pedestrian and user experience for the Paseo," said Erik Hayden, Urban Catalyst founder and managing partner. "Hines is a great company, and I have a strong suspicion they're going to do very well."
Though Hines is largely focused on offices, industrial, and residential properties, it does have some data center experience. According to the company, it has been involved with a 380, 000 sq ft data center project in Somerset, New Jersey; the 65,000 sq ft EdgeX facility in Oklahoma City; and the 1.1-million-sq ft, 31-story 540 West Madison complex in Chicago, Illinois, which houses a 50,000 sq ft data center.
Earlier this year Hines raised $650 million for a new fund focused on buying properties within the US; data centers were listed among the real estate 'Hines U.S. Property Partners' is targeting.
In 2017 the company's real estate investment trust, Hines Global REIT, made more than $110m on the purchase and sale of the Komo Plaza in Seattle - a key regional carrier hotel and data center facility.