Digital Realty has extended its credit facility and tied the terms to sustainability goals, while also filing a prospectus for the IPO of a new Singapore Real Estate Investment Trust (REIT).
The company this week said it had amended, extended, and upsized its existing global revolving credit facility from $2.35 billion to $3 billion.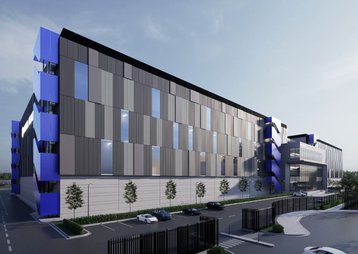 The credit facility matures in January 2027, assuming the exercise of two six-month extension options; the company also has the ability to upsize the facility by up to $1.5 billion.
The credit facilities also now feature a sustainability-linked pricing component, with pricing subject to adjustment based on annual performance targets. The company didn't share the targets but in its 2020 ESG report said it aims to achieve a 68 percent and 24 percent reduction in its Scope 1 & 2 and Scope 3 emissions respectively by 2030 against a 2018 baseline.
"We are proud to draw an even tighter connection between our corporate commitment to sustainability and our global financing strategy, and we are pleased by the strong support from the global lending community for the recast of our credit facilities," said Digital Realty president & CFO Andrew Power. "We believe the successful refinancing underscores the institutional lender community's view of the strength of our balance sheet and underlying business, while providing us with greater financial flexibility as we continue to prudently fund the growth of our global platform."
Digital Realty also amended and extended its existing ¥33.3 billion (approximately $290 million) Japanese yen-denominated revolving credit facility. The facility also matures in January 2027 – assuming the exercise of two six-month extension options – and the company has the ability to upsize the yen facility by up to an additional ¥60 billion (approximately $525 million).
BofA Securities, Inc., and Citibank, N.A., are serving as co-sustainability structuring agents for the global revolving credit facility while Sumitomo Mitsui Banking Corporation is serving as sustainability structuring agent for the Yen revolving credit facility.
"We applaud Digital Realty for the leadership it has shown in using the sustainability-linked loan market to emphasize its commitment to ESG," said Alex Liftman, Bank of America's global environmental executive. "Bank of America is pleased to have played a role in this important transaction."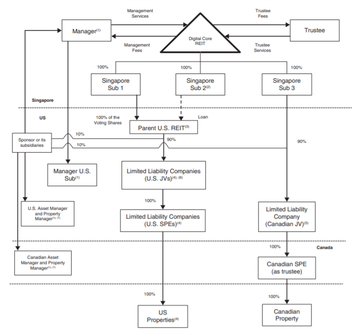 Singapore Digtal Core REIT
This week also saw Digital Realty file a preliminary prospectus for the $235 million IPO of a new Singapore-listed REIT.
The new company is to be seeded with a portfolio of 10 North American data center assets. The company is to be called Digital Core REIT.
"Digital Core REIT seeks to create long-term, sustainable value for all stakeholders through ownership and operation of a stabilized and diversified portfolio of mission-critical data center facilities concentrated in select global markets," the company said in the prospectus. "Digital Core REIT will be the exclusive S-REIT vehicle sponsored by Digital Realty, the largest global provider of cloud- and carrier-neutral data center, colocation and interconnection solutions."
Bloomberg first reported that Digital Realty was potentially persuing a Singapore IPO in June, with the company confirming the rumors in October.
In its Q3 2021 earnings call, Digital Realty CFO Andy Power said the company was "heading down the path" of exploring an IPO of a portfolio on the Singapore market.
"This is not our APAC business, which has significant amounts of capacity under construction and land and the like," he said. "This is more analogous to a private capital partner to Digital Realty for stabilized, fully well-leased, high-quality core long-term hold data centers."
Power said it was a "strategy somewhat analogous to one of our joint ventures that we've done in the past….we do think this option has the merits of being an attractive long-term partner vehicle to Digital Realty."
The Core REIT's seed portfolio consists of ten freehold data center assets across the US & Canada in Northern Virginia, Northern California, Los Angeles, and Toronto totaling more than 1.2 million sq ft and 49MW.
The company said each asset in the portfolio aside from Toronto is fully leased and stabilized on a long-term basis, with leases running from 4-10+ years in a mix of powered shell and turnkey facilities. The total portfolio is valued at $1.49 billion.
According to the prospectus, Digital Core REIT will indirectly own a 90 percent interest in each of the 10 properties through its 100 percent indirect ownership of the common shares of the Parent US REIT, which in turn owns a 90 percent ownership interest in the US JVs and its 100 percent ownership of the ordinary shares of Singapore Sub 3, which in turn has a 90 percent ownership interest in the Canadian JV, while the Sponsor Investor will retain a 10 percent stake in each of the Jvs.
Going forward, Digital Realty said it intends to co-invest with Digital Core REIT for all future acquisitions, taking 10 percent of each asset. Should DR choose not to co-invest, the new Core REIT can invest alone or in partnership with third parties. Core REIT will also be offered the global right of first refusal for a number of properties.
Digital Realty execs John Stewart and Daniel Tith have been named CEO and CFO of new the company respectively.