Philippines telco DITO Telecommunity has launched data center in Batangas City.
The company held a launch ceremony for its Super Core Data Center this week. Specifications weren't shared, but the facility appears to have been developed in partnership with parent company Udenna and China Telecom.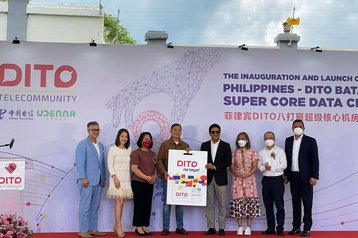 The telco said the facility is the first "Tier-III data center in the country" and is the first of two such facilities it is developing, though again didn't share details. The facility isn't listed on the Uptime list of certified data centers.
"The disaster-resilient and environment-friendly facility is the center of the network where all our edge data centers, and regional data centers are connected – the very brain of the network we all have worked hard to build despite the different challenges we faced," DITO chief technology officer, retired major general Rodolfo Santiago said. "We in DITO, including our partners, have pushed forward that have led to our success in reaching milestone after milestone as testament to our commitment as we find ourselves at the doorstep of the future for Philippine telecommunications, with DITO at the forefront of ensuring a robust digital future for our countrymen."
DITO announced plans to develop facilities for hyperscale companies in late 2021, but didn't provide details.
The company also broke ground on a new data center in Clark Global City, Mabalacat, in April 2021. Dito has completed Edge data centers in Bulua, Cagayan de Oro City; Baler, Aurora; and three in Panay in Iloilo city, Roxas city, and Ibajay Aklan.
DITO recently announced its subscriber base has reached 12 million, following the launch of its commercial operations in March 2021.
YCO Cloud Centers, a joint venture of local Filipino group JJYnchausti and US-based Cloud Centers, is developing a 12MW data center in Batangas' Light Industry and Science Park IV. The facility, YCO Manila Digital will be a two-story, 10,000 sqm data center consisting of four 3MW data halls, with delivery of the first data hall planned for mid-Q2 2023.
More in Construction & Site Selection