The first US exascale supercomputer is set to be Frontier, launching next year at the Oak Ridge National Laboratory.
Argonne's Aurora system was originally expected to be the first exascale supercomputer - a system capable of performing more than a billion billion (1018) operations per second, ie one exaflops. However, Aurora has been delayed indefinitely due to ongoing Intel manufacturing issues.
Delaying dawn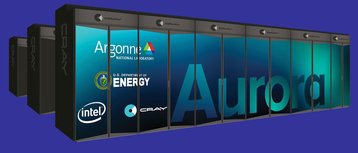 Industry observers have expected Aurora to be delayed ever since Intel announced in July that it was struggling to develop 7nm chips, and would delay its Ponte Vecchio GPU by at least a year.
With Aurora planned for mid-2021 and featuring GPUs that were pushed to the end of next year or into 2022, a delay on the supercomputer seemed likely. But Intel kept the possibility open that it might manage to hit its deadline by relying on rival chip foundries. We now know that's not going to happen.
Department of Energy Under Secretary for Science Paul Dabbar confirmed to insideHPC that Aurora was behind schedule, and that the 1.5 exaflops Frontier supercomputer will launch first. As it uses Epyc CPUs and Radeon Instinct GPUs, both from AMD, there are no concerns about its chip roadmap.
Dabbar said that the DOE was "in discussions with Intel" about Aurora, and was looking at "different options," but claimed that he had "a good degree of confidence" that the one exaflops system would launch not too long after Frontier.
It is unclear how severe Intel's 7nm production problems are - it previously suffered years of delay on its 10nm development, and in both cases it has provided misleading information to the media about how long delays would last.
Hstorically, Aurora was originally not intended as an exascale system, but got upgraded because of a different Intel chip problem. Aurora was originally meant to launch in 2018 as a 180 petaflops supercomputer featuring Intel's Xeon Phi chips. But when Phi was delayed, soft-launched, and then canceled, Aurora was pushed back and re-architected with new processors, as an exascale system.