Norwegian flare mitigation firm Earth Wind & Power (EWP) has signed with services company Oilserv, to place its "green" data centers in oilfields across the Middle East.
EWP's modular data centers are located at oil wells, but they are powered by gas which would otherwise be wasted, which the company argues makes them "green." However, it makes oil and gas exploration and extraction more profitable, helping fund more emissions.
This deal will place facilities at oil wells in Kuwait, Iraq, the Kurdistan Region of Iraq, and the United Arab Emirates.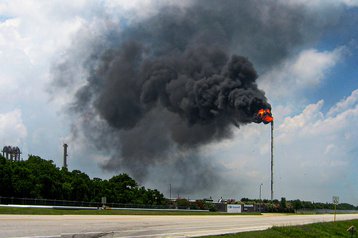 EWP has signed an exclusive deal with Oilserv, which is one of the largest oilfield services companies in the Middle East and North Africa (MENA) and is headquartered in the UAE.
The deal converts excess power from burning gas into "off-grid" compute power in mobile modular data centers, which perform high-performance computing (HPC), and other data center services.
The operation is an efficient one with zero impact on the electric grid, EWP says, and CEO Ingvil Smines Tybring-Gjedde has told DCD that the company is also involved in making use of excess renewable energy which can be produced at a time when demand is low.
The operation of a data center on wasted gas is seen by the oil industry as "emissions management," making their operation more acceptable - although the burning merely converts one greenhouse gas (methane) into another (CO2), and makes an insignificant difference to the emissions produced from an oil well's entire output.
The UN's Intergovernmental Panel on Climate Change has previously made it clear that the world needs to stop exploiting oil reserves - not to make them a little bit less polluting. UN secretary general António Guterres this month said that climate action was "falling pitifully short... We are headed for a global catastrophe [and] for economy-destroying levels of global heating."
At COP27 this week, the UAE claimed its oil exploitation is "responsible" and says it plans to supply oil and gas "as long as it is needed." Previously, the UAE has committed to increasing its production, and data shows it has been ramping up in response to the Ukraine war, producing 3.19 million barrels per day in September, 10,000 more per day than the previous month.
"We are delighted to have signed this exclusive collaboration agreement with Oilserv, which marks another significant milestone on our journey. MENA is an important region for us given the size of the market and scale of opportunity to support improved energy usage and the continuing growth in demand for data center services," said CEO Tybring-Gjedde, who is also a former Norwegian Deputy Minister of Petroleum and Energy.
The UAE is going to host next year's COP28 summit.