Power management company Eaton has launched a small UPS-as-a-Reserve (UPSaaR) pilot at its headquarters in Dublin, Ireland.
The company hopes to prove that data centers, and other large electricity users, can benefit from using their uninterruptible power supplies to help the grid.
Giving back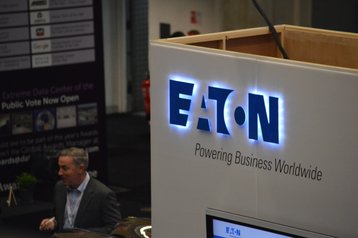 "For electrical grid companies, if they want to adopt wind power or photovoltaic power, there's tremendous benefits in having those," Ciarán Forde, Eaton's newly appointed data center and ICT business segment manager, told DCD. "But as the percentage on your grid increases, the downside of those energy sources relates to the variable sources. The sun doesn't always shine and the wind doesn't always blow, you cannot, with the flick of a switch, guarantee a certain level of megawatts from a wind farm, for example.
"And this can have a potential downside as it introduces a level of instability on the national grid. The Hertz level and the wattage all has to stay within a tight range, so if you introduce massive distortions or disruptions you can put the whole grid at risk."
The pitch of UPSaaR is simple - give some of the UPS' stored energy to the grid to help mitigate those voltage or frequency changes. "And by achieving that, that means the grid operator can take up higher and higher percentage levels of renewable energy on the grid and do it in a very, very safe way," Forde said.
The company's pilot is small, using only a 200kW UPS, and comes two years after Eaton first announced the UPSaaR service, which was followed by small trials at the Bahnhof data center in Sweden and another with Norway's Fortum. Those projects allowed for Eaton to test the technology, and prove its usability, Forde claimed. "That was just proof of concept, from a technical point of view to satisfy ourselves over the functionality of the product."
This pilot, on the other hand, "is as much about the stakeholders cooperating as it is about the technology," Forde added. The company brought the national grid, EirGrid, on board to accept it as a service, and turned to power aggregation company Enel X to negotiate the contract and handle the regulatory aspect. "They have the license to do this, Eaton and its headquarters doesn't. So this power aggregation company works as a broker between the facility and the EirGrid. This is their business, they know how to do this."
While Eaton is eyeing a wider market than just data centers, it hopes it can convince companies to part with some of the power stored in case of grid outages. "Most people will admit with a data center, the IT load is about 30 percent of the overall capacity of the electrical infrastructure," Forde said. "If you've got 70 percent extra, and you were to use 5-10 percent of that excess for a short period, anything from five to 20 minutes, you can see how the facility itself hasn't introduced risk."
Operators will be able to set their own thresholds for how much they are willing to share, but Forde insisted that "the primary role of that infrastructure is never compromised - we're not going to compromise our headquarters, we wouldn't compromise a data center or a hospital."
In return, data center companies can expect to make a bit of money. Depending on the country, grid and threshold, that amount can differ, but the company puts a rough figure at €50,000 ($55.7m) per MW of bidirectional UPS, per year. "Okay, nobody's going to retire on that, but it's a healthy offset. It's another line item that'll kind of pay for your any upgrades in the future, for proactive prevention, maintenance, that may be people might otherwise push back to a different time. That's the responsible way I would look at it."
But beyond the financial gain and the benefit of a more stable grid, Forde hopes that data center operators will be convinced by a more emotive pitch.
"The climate crisis - this species threat, everybody talks about the weather, but now we're realizing it's a species threat. Everybody's really feeling the pinch, and asking themselves the question, 'what are you doing about it?' And here's a way that industry can say, well, we can do this, we can make this contribution," Forde said.
"The road ahead is not a pleasant one, and it's not sustainable. And we predict there would be a societal backlash on heavy energy users, and we certainly want to prevent that. If the data center industry allows that excess stored energy and that critical infrastructure to participate on the grid, they're greening the grid, they were allowing the power companies take more and more renewable energies onto the grid. They are solving the problem."