The Naval Surface Warfare Center, Port Hueneme Division, plans to hire Eaton to repair an uninterruptable power supply (UPS) at its data center.
An unidentified redundant component in the UPS broke during a power outage at the 'Building 1388' data center in California. As it was only a redundant component, the UPS continued to perform correctly during the outage.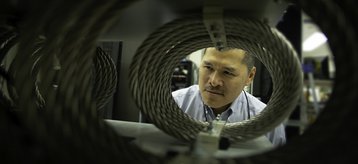 While the Navy would likely have used Eaton anyway as the UPS is under warranty, the Navy notes in government procurement documents that it was essentially forced to use the company due to software intellectual property issues.
"Eaton has developed a proprietary service software for 3-phase Eaton UPS products and is the only vendor capable of providing this service support to our Eaton UPS," the documents state.
"No other service supplier is authorized to possess Eaton proprietary (copyrighted) software, repair documentation, process, or materials. Furthermore, Eaton does not train, certify or support independent third-party service providers to deliver or service Eaton UPS and power quality products. In fact, even if NSWC PHD were to use a third-party vendor to perform software updates on the UPS, because of Eaton's proprietary software, Eaton would still need to be present during the service."
The NSWC adds that "other vendors could service the Eaton UPS system," but they are not authorized to do so.
The document attempts to redact the initial price of the 2018 UPS purchase and installation, at $506,651.92, but failed to properly conceal the information. It adds, again in a poor redaction, that the estimated cost of a new UPS and installation would cost $650,000.
"Further, based on the original installation and purchase of the UPS system back in 2018, purchasing a new system in order to use a third-party vendor would result in an unreasonable delay of approximately 14 months," the document states.
"This estimate includes not only the 12 months to purchase the new system, but also the two months delay to install the new system. This length of delay is unreasonable since it would cause NSWC PHD command to be without communication on all SIPR [Secret Internet Protocol] and NIPR [Non-Secure Internet Protocol] networks. The delay will affect all missions and projects that this command supports worldwide."