A company is planning a large battery storage facility in Ireland close to one of Dublin's major data center parks.
Echelon Data Centers-linked Data and Power Hub Services had originally planned to build a gas-fired power plant on the golf course site.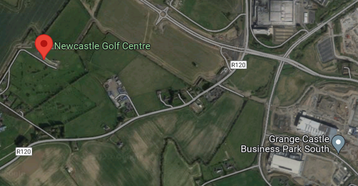 First reported by the Irish Independent, Data and Power Hub Services – a company affiliated with Echelon – has filed for permission to develop a 183MW Battery Energy System Storage (BESS) facility.
According to the application, filed last month with the South Dublin County Council, the company aims to develop a two-story power trunk building, a three-story BESS building totaling 18,560 sqm (200,00 sq ft), and a single-story administrative welfare building.
The battery building would house 63 battery containers and a roof solar array comprising 1,384 panels.
The site, located on Peamount Road in Newcastle, County Dublin, is currently the Newcastle Golf Centre. The work would see the removal of all existing on-site structures – including the clubhouse, a 15m high telecommunication support structure, various 'ancillary structures', and an internal road network – totaling more than 1,000 sqm (10,760 sq ft).
Data and Power Hub Services had originally planned to build a 100MW gas-fired power station on the site that was due to come online this year. Those plans were later shelved.
The site is less than 1km from the Grange Castle Business Park where the likes of Amazon, Microsoft, Google, Digital Realty, Edgeconnex, and CyrusOne operate facilities.
There remains a de facto moratorium enforced by the grid in the Dublin area, with EirGrid stating no new grid connection applications for data centers will be accepted in Dublin until 2028.
Interxion (Digital Realty) paused plans for expansion in the area as a result, while Dataplex recently entered voluntary liquidation after EirGrid denied power contracts at two data center sites. Microsoft, AWS, and Equinix have also reportedly paused projects in the area.
A number of companies – including Microsoft – are planning to install gas power plants at Dublin campuses to get around the block on new grid connections. Amazon recently applied for an emission license to Ireland's Environmental Protection Agency (EPC) to install 105 diesel generators at its new Dublin data center site.
In October, Minister for Climate Eamon Ryan instructed Gas Networks Ireland (GNI) not to provide connections to data centers that are going to rely exclusively on gas for power. Minister Ryan told the GNI: "It would not be appropriate for Gas Networks Ireland to sign any more contracts to connect data centers to the gas network where the data center would be powered mainly by on-site fossil fuel generation."
The request follows on from similar instructions which stopped fossil-fuel-powered data centers connecting to the electrical network two years ago.
South Dublin was last year forced to drop a separate ban on data center development in the county by the Minister of State at the Department of Housing, Peter Burke. Echelon Data Centers had filed a legal challenge against the local ban, and was later joined by EdgeConneX, CyrusOne, and Vantage Data Centers.
Echelon is developing four data centers around the greater Dublin area, including two sites near Grange Castle. The company is aiming to include a biogas facility for backup at its DUB20 site in County Wicklow.