Ireland's Echelon Data Centres has partnered with Starwood to develop a second UK data center.
The company this week announced a $250 million agreement with an affiliate of Starwood Capital Group to jointly acquire and construct LCY20; a 30MW data center in Chesham, Buckinghamshire. The two-story facility will reportedly consist of six data halls totaling around 9,000 sqm (97,000 sq ft). The company said the site will be delivered by late 2022.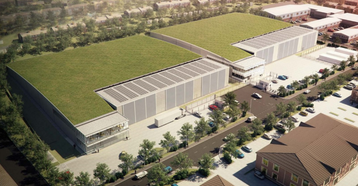 "Data centers are essential infrastructure – now, post-pandemic, more than ever," said Niall Molloy, CEO of Echelon Data Centres. "We are delighted to expand our very successful relationship with Starwood Capital in delivering this latest large scale data center campus"
Echelon's existing UK facility, LCY10, is a 12,000 sqm (129,000 sq ft), 20MW data center located in London's Docklands due to open soon.
Launched in 2019, the company currently has six other facilities under development in Ireland and the UK with a potential combined capacity of around 500MW. The DUB10 site in Clondalkin, Dublin, will be its first available Irish facility and is due to open later this year in Q4.
Last year the data center company signed an agreement with SSE Renewables to colocate a substation on its DUB20 (Arklow) site to draw power from Ireland's largest offshore wind farm and power both the national grid and the data center.
Echelon says it also has planning permission for a 100MVA for an on-site 100MW gas-powered energy center at its DUB10 (Clondalkin) facility, which will provide backup power to the data center and export to the national grid.
More in Construction & Site Selection