Echelon Data Centres and Biocore Environmental Ltd are to colocate a biogas production facility on a data center campus in Ireland.
The Irish data center owner / operator and the renewable power company will produce biogas energy on the Echelon DUB20 data center site in Arklow, County Wicklow, which Echelon will use for backup power.
Biocore specializes in producing methane gas through the anaerobic digestion process – where bacteria break down organic matter such as animal manure, wastewater biosolids, and food wastes, in the absence of oxygen – which can be used to power combined heat and power (CHP) generators.
Register now for our upcoming virtual conference on data center energy integration: DCD>Grid Scale
Backup biogas not a load of old guff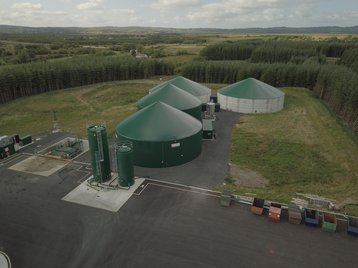 "Our agreement with Biocore, which would see a renewable biogas facility colocated with a 100MW data center on our DUB20 site is a landmark initiative which could assist in providing a renewable back-up power solution for the facility, while also making productive use of organic material and returning value in terms of fertilizer stock for Irish agriculture," said Niall Molloy, CEO of Echelon Data Centres.
Construction on the Dub20 site is due to start in Q3 2021 and operational by Q3 2022. The campus will consist of up to 10 data halls each featuring 6.3MW of capacity and 1,850 sqm (19,900 sq ft) of floor space.
"Biogas production is a virtuous circle – we take organic materials that can, themselves, become environmental pollutants, and transform them into gas either for supply to the gas network, or for use in generating power," said Declan Murray, Managing Director of Biocore Environmental Ltd. "Our relationship with Echelon will be a symbiotic one – we can use the heat that is generated by the data center to maintain our biogas production process, and the biogas produced can assist the data center in terms of producing power for storage in back-up battery arrays."
Murray adds the residue from the production process can be dried and re-supplied to the farms for use a fertilizer.
Echelon currently has six facilities under development in Ireland and the UK with a potential combined capacity of around 500MW. Last year the data center company signed an agreement with SSE Renewables to colocate a substation on its DUB20 (Arklow) site to draw power from Ireland's largest off-shore windfarm and power both the national grid and the data center.
The company says it also has planning permission for a 100MVA for an on-site 100MW gas-powered energy center at its DUB10 (Clondalkin) facility, which will provide backup power to the data center and export to the national grid.
A number of companies have experimented with using biogas to power data centers but largely remain a novelty in the industry. Microsoft has trialed methane-powered data centers in the past, as has UK provider Infinity. 365 Main had plans but shelved them after customers expressed availability concerns.
Earlier this year TRG Datacenters announced it would be using a bi-fuel diesel/natural gas generator for backup power. During the recent storm in Texas, TRG transitioned to generator power and operated continuously that way for around six days.