Echelon Data Centres has issued a legal challenge against South Dublin County Council over its attempts to ban data centers in the area.
A High Court challenge has been brought against South Dublin County Council's decision to place a ban on any further data centers being built in its function area during the lifetime of its 2022 to 2028 development plan.
However, the ban is set to be overturned by the government Planning Minister, and the area is already subject to a de facto moratorium due to grid constraints.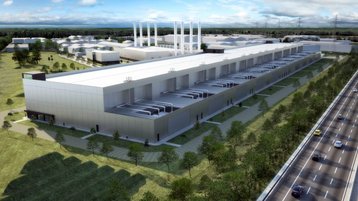 In March, People Before Profit Councillor Madeleine Johansson put forward an amendment to the County's 2022-2028 Development Plan that would prevent further data centers from being developed in the county.
"There are more beneficial uses for land in Dublin, including more employment heavy industries or offices," Johansson said at the time. South Dublin is home to around 30 data centers. The development plan was adopted over the summer.
Represented by Neil Steen SC Echelon claims the ban is unlawful and should be set aside; the decision contravenes national and regional policy on data centers, is unreasonable, irrational, and a breach various constitutional rights.
Echelon seeks an order quashing the council's decision. It also seeks an order directing the council to class data centers as being "open for consideration" under the various zoning objectives contained in the development plan.
The challenge may be rendered moot after the decision is being reversed by the government Planning Minister; the case has been adjourned until November to await the minister's final decisions. This is in addition to the fact Dublin grid operator EirGrid has installed a de facto moratorium due to grid limitations.
In reply to that amendment being adopted, the Office of the Planning Regulator told the council there was a "national objective" to promote Ireland as a sustainable international destination for ICT infrastructures such as data centers and should reverse the block.
The planning regulator said the council didn't have "any strategic justification to support" and "lacked robust planning rationale for imposing a blanket restriction."
Minister of State for Planning Peter Burke subsequently told the council's chief executive, Danny McLoughlin, that the councilors' decision to make data centers a "not permitted" use in the new county development plan breached national and regional policy and must be reversed.
In reply, local councilors rebuked Burke for overturning a democratic decision, with members of People Before Profit marching on and protesting outside the planning department's building.
At the same time, a de facto moratorium appears to be in operation since the turn of the year in Dublin after EirGrid said the grid in the capital was under strain, and no new data center applications are expected to be granted a grid connection before 2028.
Interxion (Digital Realty) paused plans for expansion in the area as a result, while Dataplex recently entered voluntary liquidation after EirGrid denied power contracts at two data center sites. Applications previously granted a connection before the ban came into force, estimated to be more than 1GW of developments, are still set to be built and connected.
Launched in 2019, Echelon Data Centres now has six sites across Ireland and the UK with a total potential capacity of up to 500MW. Its sites in Ireland will have a combined capacity of around 400MW.
Echelon has four Irish sites – DUB10 and DUB40 in Dublin's Clondalkin and Grange Castle and DUB20 and DUB30 in County Wicklow's Arklow.
The company has previously raised more than €850 million ($963.8m) in debt with Starwood Capital Group.
Update: The Times reports that EdgeConneX, CyrusOne, and Vantage Data Centers have since joined Echelon in challenging the council's decision.
People Before Profit TD for Dublin Mid-West Gino Kenny called the lawsuit "an affront to the democratic mandate of local governments and to the enviornmental movement across the island."
Madeleine Johansson, People Before Profit Councillor for South Dublin City Countil, called the lawsuit "unbelievable carry-on" from Echelon and showed "the absolute sense of entitlement" of corporations.