German company Efficient Energy is offsetting the lifecycle carbon footprint of its eChiller range, using a certified climate protection project.
This makes the product a climate neutral chiller, the company claims. The eChiller system uses water as its working fluid, instead of a harmful F-gas refrigerant.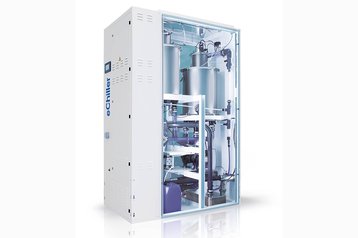 Offset for gorillas
"Together with climate protection expert ClimatePartner, the carbon footprint of the entire eChiller product family was calculated and documented, from the raw material and logistics data through to packaging and disposal," says the Efficient Energy announcement. "The CO2 equivalent emissions of these products were then offset by a recognized climate protection project that is certified in accordance with international standards and, additionally to climate protection, also contributes to many of the United Nations' Sustainability Development Goals (SDGs)."
The "climate neutral" claim depends on the customer using green electricity, a move which combined with the offsetting, will reduce the product's carbon footprint in this area to zero, Efficient claims - although offsetting projects have been criticized for being hard to track, and often being assigned to projects where carbon would have been sequestered anyway.
"Offsetting is about paying for someone else to reduce or remove carbon, while you continue pumping it into the atmosphere," Jennifer Morgan, executive director of Greenpeace International, said last year. "It's like a smoker saying they've given up, but paying a healthy person for their clean lungs so they can continue puffing."
The Efficient Energy offset funding will go to a climate protection project in Virunga National Park in Congo building small hydropower plants, which Efficient began supporting last year. The hydropower project is intended to provide an alternative energy source and help stop deforestation which is destroying the habitat of mountain gorillas.
"With Efficient Energy itself having been climate neutral since 2020, it's the next logical step of our Green Pledge that our products should also be climate neutral," said Efficient Energy CEO, Georg Dietrich.