Signal, the popular encrypted messaging service, is down.
The outage comes as millions are shifting from WhatsApp due to an update to its privacy policy that gives parent Facebook more control over user data and advertising.
Update: After an outage lasting more than 24 hours, the service is back online.
Cloud flexibility still has limits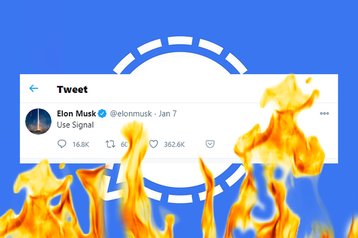 Developed by the Signal Foundation and Signal Messenger, Signal does not own any of its own data centers.
Instead, the company is entirely cloud based - thought to be relying on Amazon Web Services and Microsoft Azure.
"Signal is experiencing technical difficulties," the company's status page said. "We are working hard to restore service as quickly as possible."
Update: "We have been adding new servers and extra capacity at a record pace every single day this week nonstop, but today exceeded even our most optimistic projections. Millions upon millions of new users are sending a message that privacy matters. We appreciate your patience," the company said in a statement.
"We are making progress towards getting the service back online. Privacy is our top priority, but adding capacity is a close second right now."
Elon Musk told Signal after it went down: "Your server-side code is doing too much."
Founder of European cloud provider OVH Octave Klaba also reacted to the outage, telling Signal "We also believe in the privacy and the alternative solutions. If you are looking for >10K servers with 16c/24c/48c in USA, Canada, Europe and APAC, we will be more [than] happy to help."
The platform had around 20 million active users as of December 2020, but that number is thought to have risen considerably due to WhatsApp's privacy update, with millions of new downloads coming on the back of support from Elon Musk and Edward Snowden.
The app sent a notification to all of its 2 billion users forcing them to accept its privacy policy before 8 February, with many concerned that it gave Facebook too much access to data. The exact nature of the change has been misreported by many, and Facebook already had access to some of the data people fear the update changes, but the thing to note is that the update made a significant number of people aware of the privacy implications of WhatsApp. Update: Since this article was published, WhatsApp announced it would push back the deadline for people to accept the privacy policy due to growing consternation.
Rival encrypted messaging service Telegram also saw a huge surge in users as a result.
Founder Pavel Durov said that there was a 500 percent increase in new users as a result, adding that it is "the largest digital migration in human history."
Excitement in WhatsApp alternatives reached a fever pitch this week, with shares in Signal Advance Inc jumping 6,000 percent. The company has nothing to do with the Signal app.