Equinix and PGIM have launched their first hyperscale data center in Australia.
The companies this week announced the opening of the first xScale data center in Sydney, named SY9x. The facility currently provides more than 14MW of capacity and will total more than 28MW when fully built out.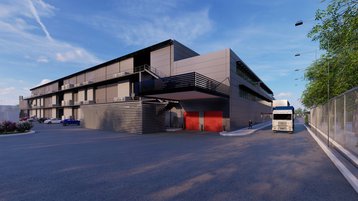 Equinix announced it was forming a $575 million joint venture with PGIM in October 2021 to develop two hyperscale facilities in Sydney. SY9x, located in West Sydney's Rosehill, was originally due to launch in Q1 of this year.
"Since 2013, PGIM Real Estate has been investing in the vibrant and growing data center sector and we are now delighted to be opening our first hyperscale data center in Australia in partnership with Equinix," said Morgan Laughlin, Global Head of Data Center Investments, PGIM Real Estate. "PGIM Real Estate is projecting to continue expanding its investments in the global digital infrastructure sector, and we view our co-investment relationship with Equinix as an extremely important component of that strategic effort."
Guy Danskine, Managing Director, Equinix Australia, added: "To address the increasing demand for cloud and digital infrastructure, the opening of our first xScale data center in Australia in tandem with the continued expansion of our International Business Exchange data center capacity across the country ensure more and more organizations can implement their digital-first strategies."
Equinix first partnered with Singapore's GIC sovereign wealth fund in October 2019 to develop hyperscale facilities under the then-new xScale label. Including SY9x in Sydney, Equinix currently operates nine xScale data centers in Europe, South America, and Asia, including Frankfurt, London, Osaka, Paris, São Paulo, and Tokyo. An additional eight xScale builds are under development for approximately 70MW of incremental capacity.
In total the xScale portfolio will see more than $8 billion of investment across 36 facilities, and an expected greater than 720MW of power capacity when completed and fully constructed.
The second Australian facility, SY10x, will also provide more than 28MW of power capacity when built. PGIM Real Estate owns 80 percent equity interest in the Australian joint venture, with Equinix owning the remaining 20 percent. Equinix will be responsible for the operation of the hyperscale data centers.
In Latin America, BNAmericas reports that Equinix's first Mexican hyperscale data center is due to go live soon. Equinix's general manager for Mexico, Amet Novillo, said works for the first phase of the MX3 hyperscale site are expected to be concluded by the end of this month and will be used by "more than one" global cloud provider. With an initial budget of $58m, the facility will have 4MW of power capacity at launch and eventually reach 14MW of capacity.