Equinix has opened a new data center in Frankfurt, Germany.
The company has opened a new IBX facility, known as FR8 in the west of the city. The first phase of the site has 4,800 sq m (51,600 sq ft) of colocation space available. Equinix said it has invested $103 million in the facility.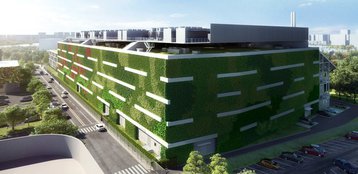 "Frankfurt is not only a European financial capital, but also one of the world's leading data hubs," said Jens-Peter Feidner, managing director, Germany, Equinix. "The sustainable expansion and operation of this infrastructure is a key concern for us; FR8 not only provides customers with a high-performance IT infrastructure, but also one that aims to be as efficient and climate-friendly as possible."
Like all new Equinix builds in Frankfurt, the data center will have a greened facade and roof, which it said helps the building blend into the cityscape and also contributes towards the local microclimate.
The new data center is powered with 100 percent renewable energy, guaranteed by a green power certificate from local supplier, Mainova.
Equinix has German facilities across Munich, Düsseldorf, Frankfurt, and Hamburg.