Equinix is to expand one of its data centers in Singapore.
The company this week announced it would invest $86 million to expand its SG5 International Business Exchange (IBX) data center in the city state.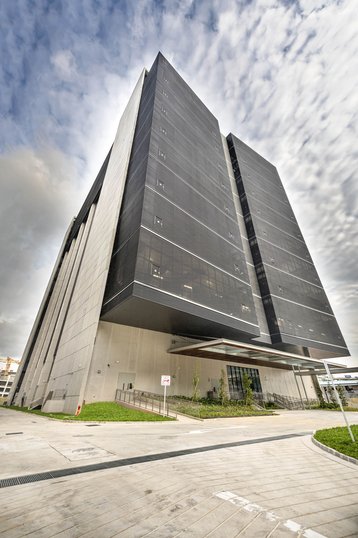 The SG5 expansion will add more than 1,475 cabinets, taking the facility's capacity to more than 2,950 cabinets – with more than 83,000 square feet (7,700 sqm) of colocation space. Timelines of the expansion were not shared.
SG5 is a nine-story facility located at the Tanjong Kling data center park. First announced in 2020, the facility went live in August 2021 and is currrently the tallest data center in the country - until Facebook's US$1billion, 11-story data center goes live later this year. At full build-out, the data center is expected to offer 5,000 cabinets, with a total colocation space of close to 129,000 square feet (12,000 sqm).
Yee May Leong, Managing Director, Equinix South Asia said: "The expanded capacity of SG5 allows us to meet the rapidly increasing demand for digital infrastructure."
Equinix has also been selected by Inligo Networks to establish a cable landing station for its Asia Connect Cable System (ACC1) subsea cable in Singapore. ACC1 will provide low latency, high capacity connectivity between Singapore, Indonesia, Australia, and the United States. ACC1's design has been completed with construction to commence in 2022.
"Equinix emerged as the partner of choice for us due to its entrenched global footprint, as well as its extensive ecosystems of major network and cloud service providers that facilitate the connectivity necessary to maximize outcomes in today's digital world," said Simon Zettl, Chief Revenue Officer, Inligo Networks. "With Singapore's status as a gateway to Asia-Pacific, we look forward to working with Equinix to deliver optimal functionality and value for fast-digitalizing organizations and economies throughout the region."
In 2019, Singapore's government applied a moratorium, with no new data center projects allowed. In January 2022, this was lifted, with conditions. It's understood that Singapore will allow only 60MW of new capacity per year, in tranches of between 10MW and 30MW. New data centers will also have to have a power usage effectiveness (PUE) of 1.3.
At today's average power density, Equinix's 1475 racks will use around 11MW of power, and probably more. If an expansion like this falls within the remit of Singapore's new data center quota system, then Equinix will have used a substantial tranche of this year's available capacity.
More in Construction & Site Selection
More in Colocation & Wholesale