Swedish vendor Ericsson has penned a five-year partnership with the Canadian government that will see more than $351 million invested into two of its R&D centers in the country.
This investment will specifically see research into 5G Advanced, 6G, Cloud RAN, core networks, quantum computing, and AI for a mobile network ramp-up.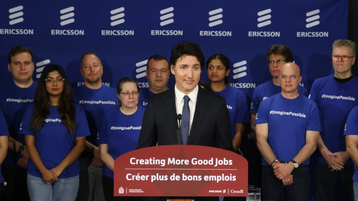 The investment will go into Ericsson's Ottawa, Ontario and Montreal, Quebec facilities, with the vendor claiming in a press release that this will create and upskill hundreds of jobs.
"Today's announcement is further evidence that Canadian workers have the talent the world needs to develop faster and more secure Internet connection and other wireless services. As we continue to support innovation, we are creating good jobs, strengthening the middle class, and ensuring Canada remains a global leader in technology," said Justin Trudeau, Prime Minister of Canada.
Ericsson has been operating in Canada for 70 years and claims to spend $258 million on average each year on R&D in the country.
The vendor also said that its latest investment in Canada will see the company onboard up to 60 additional interns per year, totaling 300 across the length of the partnership.
Ericsson's Ottawa site is the company's key North American facility, with the site occupying 25,000 sqm in total, with more than 4,300 sqm solely dedicated to lab operations, including the recently established Ericsson Open Lab where cloud RAN and virtualized 5G technologies are developed.
Earlier today, Ericsson revealed its first-quarter core earnings were ahead of expectations, largely supported by stronger sales of 5G equipment in countries such as India.
However, sales in more established markets such as North America fell by 18 percent, just a couple of months after Ericsson outlined plans to cut 8,500 jobs globally as part of plans to save nine billion crowns ($800m) by the end of the year.
Ericsson reported net sales of $6 billion in Q1, which was up 14 percent year-on-year from $5.34bn, but net income was down 46 percent to $155m, due to the restructuring costs.
More in Workforce & Skills