Facebook has failed to get a trade-secrets theft lawsuit dismissed, so it will have to face British engineering firm BladeRoom Group in court.
BladeRoom claims that Facebook stole some of its modular data center ideas, used them in its Luleå, Sweden data center, and published them on the Open Compute Project blog. BRG licenses its technology from Bripco, a separate company that includes many of the same senior employees. Both BRG and Bripco filed a lawsuit against Facebook, as well as Emerson, Emerson Network Power, and Liebert, in 2015.
Facebook, which has denied the claims, tried to get BRG's lawsuit dismissed, but now a federal judge has ruled that the social media company must defend itself against the allegations.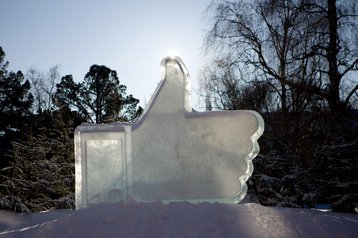 The timeline
In a somewhat redacted order filed this week, United States District Judge Edward J Davila explained what was known about the case so far.
Discussions between BRG and the defendants began in the summer of 2011, followed by "a meeting for several Emerson executives at its factory in England."
"BRG also began discussing the BladeRoom technology with Facebook in October, 2011. In connection with those discussions, BRG and Facebook entered into a nondisclosure agreement… [and then] Facebook 'urgently requested' a proposal to supply BladeRooms for a data center in North Carolina. BRG provided the proposal in November, 2011… According to BRG,'[f]eedback from Facebook was positive, and Facebook quickly began asking to learn even more details about' BladeRooms."
BRG and Facebook met in both the US and UK, and two Facebook representatives were given a tour of an operating BladeRoom site and provided with additional confidential information, BRG claims. 
"Subsequently, 'Facebook continued to request yet more detailed confidential information from BRG,' and 'suggested that the next step should be for a team of Facebook design and engineering staff to travel to BRG in England for an in-depth workshop with BRG's technical teams to enable Facebook to learn more…'," BRG claims.
BRG alleges that it held the in-depth workshop for Facebook in June, 2012, "during which BRG revealed additional confidential information. A meeting between BRG and Emerson, during which BRG also revealed confidential information, occurred at the same time."
The filing continues: "To maintain the confidentiality of the respective discussions, BRG ensured the two companies' representatives were separated during their visits.
"But despite BRG's efforts, representatives from Facebook and Emerson did engage in a 'pre-arranged, clandestine meeting' in London on June 21, 2012, and 'compared notes' on what each had learned from their meetings with BRG. Facebook also continued to indicate an interest in partnering with BRG and requested more information and proposals."
In January 2013, Emerson announced it would work on modular data centers, and in May 2014, the company was chosen to construct Facebook's pre-fabricated, modular data center in Sweden. Neither company placed an order for BladeRoom products.
BRG also alleges "that on January 28, 2014, a Facebook representative made a public presentation at an OpenCompute forum and referred to the BladeRoom technology as the 'rapid deployment data center' ('RDDC') method created by Facebook. The same Facebook representative also authored and published an OpenCompute blog post that allegedly included details of the BladeRoom technology."
Did BRG own the secrets - and keep them secret?
Facebook has argued that BRG did not own the trade secrets in question, but Judge Davila rejected the statement. He said: "Plaintiffs have allegedly employed several mechanisms to limit the public disclosure of confidential information. Facebook's challenge to BRG's trade secret misappropriation claim based on lack of ownership is therefore rejected."
Another defense the company used is that BRG did not sufficiently keep its trade secrets a secret.
But Davila said: "Facebook essentially enticed BRG to disclose confidential information to Facebook and third parties in May, 2012, by misrepresenting the true purpose of the meeting. To that end, Plaintiffs allege that Facebook told BRG that it would be asked to submit a bid for an expansion of the Prineville data center, while in actuality Facebook had already agreed that its own contractors would submit a substantially lower bid for the same work.
"Thus, though Facebook's argument regarding voluntary disclosure is certainly appealing and may ultimately prevail depending on what is revealed through an investigation of the facts, Plaintiffs theory that its efforts at secrecy were reasonable under the circumstances is plausible enough to overcome a motion to dismiss."
When contacted by DCD, BRG declined to comment. The re-branded and now spun-off Vertiv, previously Emerson Network Power, did not immediately respond for comment.