Facebook has unveiled the 'Backpack,' its second-generation modular switch platform, which has been deployed at the company's data centers and submitted to the Open Compute Project for review.
Together with its recently announced  Wedge 100 top-of-rack network switch, the Backpack completes Facebook's "100G data center pod."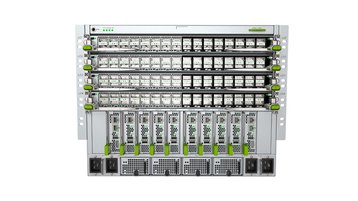 Preparing for a future of video
"Facebook is making it possible for people to create and share new immersive experiences using video and VR, and by some estimates video will make up 75 percent of the world's mobile data traffic by 2020," the company said in a Facebook post.
"With the onset of these new services, we need to make sure our global infrastructure is designed to handle richer content at faster speeds. To meet these current requirements and any future bandwidth demands, we're working toward the 100G data center."
The Backpack has the same performance levels as Facebook's first-gen platform nicknamed Six Pack, but with more speed. The cooling system has been upgraded to support 100G ASIC chips and optics, but has a design the company says is simple to use.
Facebook added: "Backpack has a fully disaggregated architecture that uses simple building blocks called switch elements, and it has a clear separation of the data, control, and management planes. It has an orthogonal direct chassis architecture, which enables better signal integrity and opens up more air channel space for a better thermal performance. Finally, it has a sophisticated thermal design to support low-cost 55C optics."
As the company behind the Open Compute Project, Facebook has invested heavily in the initiative, only last week deploying its new packet-optical switches, Voyager, in Equinix facilities.