Finish telco Elisa is sharing heat from its data center in Helsinki, in a deal that could heat up to a thousand local apartments.
Elisa's headquarters in Pasila, Helsinki, has been connected to an open district heating system run by energy company Helen, so waste heat recovered from the data center there can be transferred to use in heating homes and other business premises.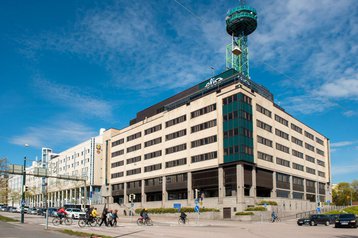 The Elisa headquarters building is owned by pensions company Varma and is already a reference site for Finland's Green Building Council after a massive renovation in 2019 reduced the energy consumption by 40 percent, saving a net figure of 250 tons of carbon per year - and cutting Elisa's costs.
Two-way heat network
Heat from the data center in the basement of the building has been used within Elisa's own heating and ventilation since the renovation, but is now being made available outside the building thanks to the district heating system run by Helen.
Helen says it runs a 1,409 km district heating network in Helsinki which is "open", or two-way, so customers can both buy heat and sell the heat they produce to the energy company. The system recycles existing heat, so Helsinki uses more emission-free heat, and burns less fossil fuel.
"In Finland, people regard recycling and the use of renewable materials as one of the most important indicators of sustainable business practice. Recycling is also sensible in the use of energy. Investing in both energy self-sufficiency and in technology that promotes energy efficiency is more important than ever. The cooperation with Elisa offers an excellent opportunity to increase the amount of recycled heat for our customers by utilizing our energy platform," says Henrietta Lahti, Business Lead, data center and waste heat solutions at Helen.
In fact, this is merely the latest data center to hook up to Helen's heat network, which has been accepting heat from data centers for more than ten years. Helen already takes waste heat from Elisa's other data centers in Säteri and Tapiola in Espoo, and has worked with Equinix since 2010, in a partnership that was expanded to include more data centers in June 2022.
Helen is also taking heat from Telia's data centers, boosted by heat pumps starting this year.
"In cooperation with Helen, energy efficiency in our Pasila data center will improve so that it will become environmentally positive, i.e. the data center actually reduces global emissions," says Sami Rajamäki, Elisa's Vice President, Network Services. "That way we can offer our customers digital services that are produced in an even more sustainable way than before."
Elisa has been a carbon-neutral company since 2020, and Helen aims to be carbon neutral by 2030.
The landlord, Varma, says its goal is to reduce the carbon dioxide emissions of its properties by 20 percent by 2025, and plans to reduce its energy use by 10 percent over the period 2017–2025. Varma is building a 43,000 sq m office building in the Pasila tower area, which it promises will be environmentally friendly and will participate in circular economy projects.