A fire at a BT data centre in Belfast yesterday has disrupted Internet services in Northern Ireland. It was put out quickly, but service providers based at the site have had several hours of trouble getting up and running again.
The fire started at 6am in a comms room on the fourth floor of BT's Telephone House. The data center floors lost power and connectivity, but were not directly affected by the fire. The cause is believed to be an accident affecting the power supply to that room, and the circumstances have been described as "not suspicious". Network fibers seem to have been undamaged, and services have been restored after a day's disruption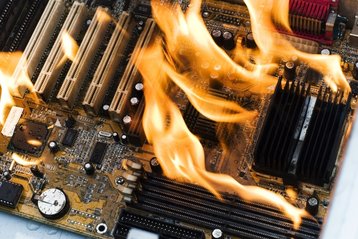 Fire fighters
Six fire engines and an aerial appliance were called to the fire, which was put out by eight fire fighters who entered the building. 
Translink, the Police Ombudsman's Office, Belfast City Council, Northern Ireland Electricity, Strabane City Council and Budget Energy were among the companies whose sites were affected, but most have been restored. 
"Yesterday's fire in our Telephone House building in Belfast disrupted the electricity supply to the building affecting a number of customers," said a BT statement. 
The progress of the fault and its repair is charted in a blog by Tibus, an ISP residing in the data center. Power was "quite corectly" cut when the fire was discovered, Tibus reports, and was restored around 1.30pm. 
The data center was opened to customers around 5pm, and Tibus reports there was some damage to power distribution equipment, due to the sudden restoration of power: "These are pieces of equipment… designed to regulate or 'groom' power that goes into server," says the Tibus blog. "However, they are subject to tripping when excessive or sudden power is offered to them.
BT has denied reports that internet services were affected across Northern Ireland.