A fire in the basement of the US corporate headquarters of automotive company Ford forced it to shut down its on-site data center.
More than 1,500 Ford employees at the Dearborn, Michigan HQ were evacuated as the basement's electrical sub-station caught fire.
A fire starter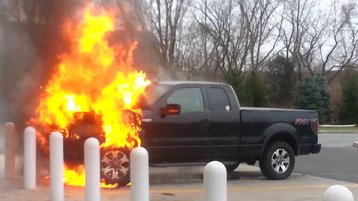 Power was cut to the on-site data center that was scheduled to receive sales information from Ford dealerships across America. 
"The fire at an electrical substation interrupted power to Ford World Headquarters and the adjacent Ford Credit office buildings, as well as to one of the company's main data centers that the company and its dealers use to report and track sales," Ford said in a written statement.
Remote facilities are being used to handle the new load while power is restored, but during the initial stages of the outage the data center was unable to receive and process sales data.
"While battery backups worked as intended to protect data saved in the system, the lack of full power resulted in the data center being shut down for most of Monday's business day, and dealers were unable to report final-day sales," Ford continued.
This has resulted in the monthly sales report being delayed until later this week.
The Dearborn HQ is undergoing a major overhaul, with Ford World being upgraded over the next decade. Included in the construction is a brand new data center, with a ground breaking ceremony taking place just last month.