Flexential has completed a new $2.1 billion securitization financing offering.
The company said it was the largest single asset-backed securities (ABS) issuance to date in the data center industry, including the largest-ever green data center ABS financing.
Flexential said the offering "dramatically improves" the company's investment-grade credit profile, lowers the cost of capital, and will allow it to deploy greater data center capacity to meet accelerating demands in new and existing markets.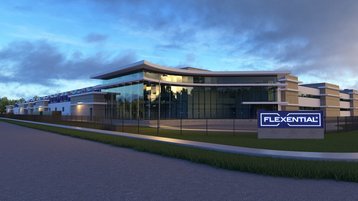 "The number of industry firsts in this transaction are a reflection of how we transparently and sustainably approach growth," said Chris Downie, CEO of Flexential. "We will leverage the capital generated by this transaction to deliver on our promise to support our customers' evolving hybrid IT requirements. This inflection point is a result of considerable effort and tenacity from our employee base, along with the support from our investment partners and the entire Flexential ecosystem."
The company issued the green notes under its new Green Finance Framework, which requires any new-build data centers funded through the offering to demonstrate a power usage effectiveness (PUE) of 1.4 or below, as well as zero water usage in cooling to be included under the framework. As an added commitment, Flexential will be reporting on the operational performance of the Green Assets on an ongoing basis.
A wholly-owned subsidiary of Flexential issued $1.6 billion green ABS notes as part of a debut $2.1 billion entrance into the US ABS market. Financing was split into $1.6 billion of notes with a five-year anticipated repayment date, and $390 million of notes with a seven-year anticipated repayment date.
"Our sustainability strategy focuses on where we can make the most impact by ensuring the entire lifecycle of Flexential's facilities are designed, built, and maintained with sustainability in mind," said Garth Williams, Flexential CFO. "We will look to achieve this through energy- and water-efficient cooling, cleaner power systems, and renewable energy options. The level of detail contained within our new Green Finance Framework will ensure discipline in this strategy and our sustainability performance. We view these commitments as essential to maintaining our long-term competitive advantage in the marketplace."
Guggenheim Securities, LLC acted as sole structuring advisor and joint active bookrunning manager for the securitized notes. J.P. Morgan, and Deutsche Bank Securities acted as joint active bookrunning managers. ING Financial Markets LLC was engaged as the Sole Sustainability Coordinator and passive bookrunner. Barclays, Citigroup, Jefferies, MUFG, and Truist Securities were engaged as co-managers for the transaction.
"With these new targets, Flexential is setting a new standard in efficiency and sustainability across the most material environmental issues for the industry," said Dan Shurey, director, sustainable finance, Americas, ING. "By linking sustainability targets with a growth strategy, this financing demonstrates Flexential's commitment to both their clients and the environment."
Sustainability-linked financing is quickly becoming a common trend amongst data center and telco firms. The likes of NTT, Aligned, Airtrunk, KPN, Baidu, Atos, Digital Realty, and Nabiax all raised new funds or converted existing debt to include interest rates tied to sustainability and ESG goals in the last 12 months.