Arizona-based Forced Physics DCT has produced a micro data center cooled by its novel heatsink design, without the use of air conditioning, water circulation, or liquid cooling.
The Edgeility unit consists of a single 24kW rack installed in a rugged cabinet with a Natron battery and an industrial blower to move air across the JouleForce heatsinks made by Forced Physics. The first system has been installed outdoors in the desert heat at Sun West Engineering, in Phoenix AX, the firm that made the rugged cabinet.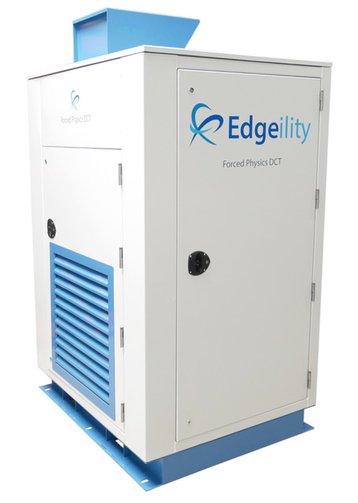 No water in 110-degree heat
"There is tremendous value in an Edge system that does not rely on liquid or air conditioning. Our Edgeility System allows customers to compute anywhere - even the harshest environments," says Scott Davis, CEO of Forced Physics Data Center Technology (DCT), and inventor of the JouleForce heatsink.
In 2005, Scott Davis patented a heatsink that attaches electronics directly to a metal conductor and transfers heat to a convection current of air, and which Davis claims can deliver a PUE (power usage effectiveness) of 1.02
Forced Physics DCT has been working to commercialize the idea since 2015, and installed a prototype rack in H5's Phoenix data center in 2019. In 2020, the company added sodium-ion batteries from Natron, a startup battery specialist
Forced Physics describes Sun West as the first Edgeility customer, but the company is a partner, making the cabinets for the system: "We were early supporters of Forced Physics because it's something we believe in," says Phil McCoy, President of Sun West Engineering. "Any energy-reducing technology in the high growth data handling environment is bound to grow legs. We've worked with the giants in the telecom industry and know what it takes to build a robust enclosure for data center environments."
Summer temperatures at Sun West Engineering can reach over 110 degrees, but Forced Physics is confident the system will run smoothly without air conditioning, liquid, or server fans, and can be located anywhere the customer wants, including rooftops, parking lots, and garages.
The unit is ideal for Edge computing, where data must be stored and processed close to its source, to reduce latency, says Forced Physics. It's also potentially cheaper, as the box contains fewer moving parts and has lower maintenance and operating costs.
The sodium-ion battery contributes to this, says Jack Pouchet, VP of sales at, Natron: "Our battery's unique characteristics such as wide operating temperature range, long life, safety, and sustainability are well suited for Edgeility System deployments in harsh outdoor environments."