Foxconn Technology Group's manufacturing plant in Wisconsin will assemble key components for Google servers, Bloomberg reports.
The factory was announced in 2018 by President Trump who called it the "eighth wonder of the world," but has repeatedly been delayed, seen its purpose changed, and failed to hit job targets.
Foxconn also claims it will build a data center at the Wisconn Valley Science and Technology Park, but details have been light.
Made in the USA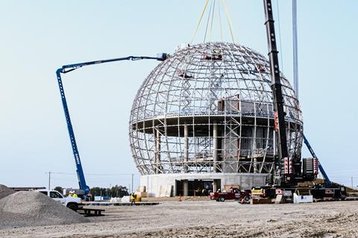 Taiwanese manufacturer Foxconn originally promised to build flat screens and other consumer electronics in a complex of factories costing $10 billion, to eventually employ up to 13,000 people.
In return, then-Governor of Wisconsin Scott Walker signed off on up to $4.8 billion in tax breaks - the largest subsidy ever given to a foreign company by the US - working out to about $370,000 per job, or $1,774 per Wisconsin household.
As part of the deal, the town of Mount Pleasant offered $763 million to help pay for the project, while Racine County gave Foxconn $50 million to acquire the land.
Soon after the 2018 groundbreaking featuring the US President, Foxconn began changing its plans. It shifted from its promised Generation 10.5 plant, to saying it would build a much smaller Gen 6 plant. Instead of panels for 75" TVs, it claimed it would build an "ecosystem of AI 8K+5G" tech, primarily built by robots. At one point, it considered everything from fish farming to exporting dairy to renting storage space.
It also promised to build a number of "innovation centers" across the state, but investigations by The Verge found that the buildings the company acquired were left empty for more than a year.
The company has yet to hire as many people as it said it would, and allegedly refused to meet with the state over renegotiating its tax relief contract after it repeatedly missed targets.
After finally negotiating, talks failed and this year Wisconsin denied the company some of its tax subsidies.
While the main factory complex is underutilized, it now is believed to have signed one of its first manufacturing contracts - Google servers. In the first quarter of next year, Foxconn plans to start mass production of the servers, timed with the release of Intel's Ice Lake CPU.
It is not clear how large the contract is, but comes a year after Google began to move the production of US-bound motherboards from China to Taiwan due to tariffs and concerns about being at the mercy of the Chinese government.