French colocation firm Castle IT is planning to expand with two more data centers next year.
La Tribune reports that by next year the company will have expanded with facilities in Reims, Marne; and Aix-en-Provence, Bouches-du-Rhône.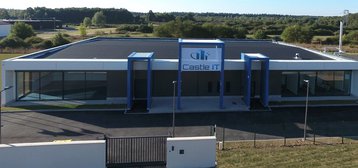 The company will reportedly invest around €30 million ($32.3m) developing the two facilities.
"The opening of two data centers in the North-East and South-East parts of the territory responds to a need for companies not only to know where their data is stored, but also to bring it as close as possible to their headquarters," said Maxime Paillot, co-founder and finance accounting director of Castle IT. "At the big players in the cloud, on the contrary, anonymity prevails. They generally do not provide any details, including to their customers, on the location of their establishments. Castle IT is planning a second step to complete its local network by 2025 with two new regional data center openings, in the South-West and North-West."
Founded in 2016 by three partners -- brothers Louis Baptiste Paillot and Maxime Paillot alongside Johan Thomas -- Castle IT offers colocations services from a single location in Larcay, outside Tours. Opened in 2016, the facility offers 1,300 sqm (14,000 sq ft) of Tier III-quality space.
The data center is almost exclusively marketed by integrators and "outsource managers" like FRP2i, Axians (Vinci), and Convergence IT, but also includes Orpi (real estate), Kelly services (temporary work), Areas (collective catering), Wall Street Institute (foreign language training), NW Groupe (energy transition), and Jennifer (teen fashion) as customers.
LT also notes that alongside the planned organic growth, Castle IT aims to secure a 'major acquisition' in 2023. The identity of the target company wasn't revealed, but reportedly currently employs 100 people.
More in Colocation & Wholesale