The world's most powerful supercomputer, at least officially, is still the US' Frontier system at Oak Ridge National Laboratory.
The supercomputer remained at 1.102 exaflops of performance, and 1.68 peak exaflops, the same as when it topped the Top500 system ranking in June.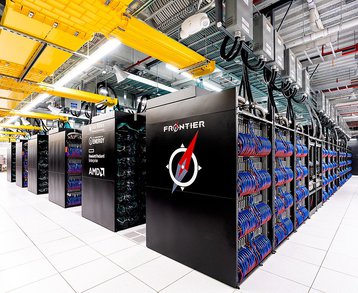 However, Frontier has not been pitted against the two Chinese exascale systems that launched early last year. Neither have been submitted to Top500 testing, but reports surfaced late last year surrounding their purported power.
The Sunway OceanLight supercomputer is believed to be around 1.3 exaflops peak/1.05 exaflops sustained on the HPL benchmark, which would put Frontier slightly ahead.
However, the Tianhe-3 is thought to be capable of 1.7 exaflops peak/1.3 exaflops sustained, making the world's most powerful supercomputer if that performance can be corroborated.
Such confusion over who has the top spot may soon be settled, when the Aurora supercomputer launches.
Featuring Intel's Ponte Vecchio GPU, it is expected to be capable of 2 exaflops. After multiple delays, and changes in its roadmap, Aurora finally began installation late last year. But the system is still beset by delays, and will likely come online next year.
The rest of the Top500's top 10 remains mostly unchanged, with the only new entrant the 'Leonardo' system out of Italy.
With 174.7 petaflops of performance out of 255.75 theoretical peak petaflops, it is the fourth most powerful supercomputer in the world. A BullSequana XH2000 system, it features Intel Xeon Platinum 8358 CPUs and Nvidia A100 GPUs.
The other EuroHPC system on the list, Lumi, doubled its performance from 151.9 petaflops to 309.1 petaflops after doubling its computing space.
The Green500 list, meanwhile, had a new number one - the Henri supercomputer. A Lenovo ThinkSystem SR670 V2 system, it features Intel Xeon Platinum 8362 CPUs and Nvidia H100 80GB GPUs.