MobHyl Power, a fuel cell unit from PowiDian, is being sold as a replacement for diesel generators in applications including data centers.
The MobHyl PowerM30, the latest version of PowiDian's product line, can deliver 30kVA in a mobile unit powered by hydrogen fuel cells. It was shown last week at the Hyvolution exhibition in Paris.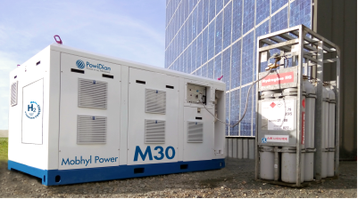 Diesel-free genset
"We developed the project in one year with the help of European Funds for Development in Regions (FEDER)," sales engineer Jean-Baptiste Barbenchon told DCD. 
The use of hydrogen eliminates noise and emits only water, Barbenchon said. It also needs only light maintenance. It is transportable, and can be used in a range of cases, including temporary installations for building sites, festivals or disasters.
The system is controlled by simple buttons and has indicators of its status and remaining battery life at any time.