Japanese tech giant Fujitsu has launched a new server rack designed with Internet Service Provider data center operators in mind.
The single-socket rack features AMD's second-generation Epyc CPUs, with up to 64 "Zen 2" cores on a chip.
Intel outside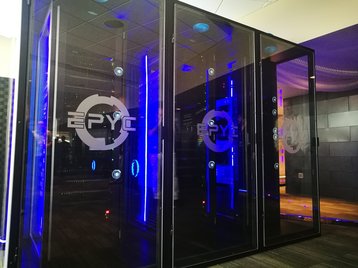 "We are pleased to strengthen the business relationship with AMD with the new Fujitsu server Primergy LX1430 M1 based on the 2nd Gen AMD Epyc processor," Kenichi Sakai, corporate executive officer, SVP and head of system platform business unit, said.
"This joint collaboration will accelerate to deploy AMD Epyc-based systems to help customers achieve digital transformation and innovate their businesses."
The company said that it was targeting ISPs, as well as scale-out cloud environments, with the single-socket racks low in cost and power consumption.
"Cloud and Enterprise customers are looking for leadership performance and lower total cost of ownership to support increasingly complex workloads," said Scott Aylor, corporate vice president and general manager od the data center solutions group at AMD, said. "The 2nd Gen AMD Epyc processors deliver single-socket performance at price points that set a new standard for the modern data center."
AMD has been slowly gaining ground in the server market after years of failing to be a viable contender. Since launching the first generation Epyc processor in 2017, the company's chips have been adopted by AWS, Google, Baidu, Microsoft, and more.