A data center currently occupied by Fujitsu is up for sale in Belfast, Northern Ireland.
The 6-acre site is located at Trident House, 301 Airport Road West, in the Belfast Harbour Estate. The site consists of two buildings totaling 36,956 sq ft (3,433 sq. m); an office and a stand-alone data center. The single-story building totals 9,111 sq ft (846 sq m) while the two-story facility totals 27,845 sqft (2,387 sq m).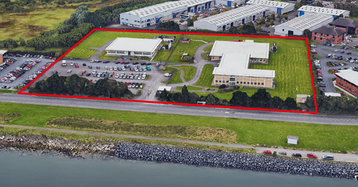 Property firm Riddell McKibbin is currently seeking offers in excess of £1.25 million ($1.72m).
The single-tenant site is currently leased to Fujitsu Services Ltd, but only until December 2021. The company pays a current rent of £397,000 ($531,000) p/a.
The property is held long-lease for a term of 125 years from December 1992 at an annual ground rent of ~£240,000 ($321,000).
Fujitsu recently announced the closure of its Belfast headquarters on Holywood Road. IrishNews reports the Japanese company decided not to renew the lease on the 23,600 sq ft 2,200 sqm) Computer House, which has been the main base for its operations in Northern Ireland for the past two decades. The three-story building went on the market with an asking price of £2.75 million.
Fujitsu said the move followed the adoption of flexible working for its 600 staff in the north. The company will reportedly choose a new location within the city for its NI HQ in the future.