Crusoe Energy, the company which places data centers at oil wells, has bought its long-term manufacturing partner, Easter-Owens.
Crusoe has bought Denver's Easter-Owens, a company which previously made modular data centers for Crusoe to park at oil wells, where they perform computing powered by burning natural gas which would otherwise be flared off, which Crusoe claims is an environmentally beneficial thing. The acquiisition of Easter-Owens creates a vertically integrated company, bringing data ceneter building expertise in-house.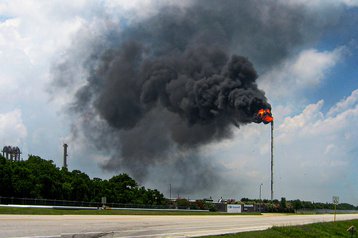 Crusoe is believed to have also used the services of MCFI to produce modular data centers on at least one occasion.
Greenwash?
The Intergovernmental Panel on Climate Change (IPCC) has warned that the world must stop extracting and using fossil fuels if we are to have any chance of averting climate catastrophe. UN Secretary General Antonio Guterres has called fossil fuels a "dead end", and last week warned that fossil companies "have humanity by the throat".
Crusoe's approach places modular data centers at oil wells, where computers are powered by energy generated from burning gas which would otherwise be flared off as the oil companies believe it to be uneconomical. Crusoe calls this "flare gas mitigation", and claim it reduces emissions because it converts one greenhouse gas (methane) into another (CO2). However, the tehnique does nothing to mitigate the much larger harm done by the oil from those wells.
Oil-based economies in the Middle East have backed Crusoe as a way to greenwash their fossil production, while "green" fund G2 has also invested in the company, apparently misunderstanding Guterres' remarks and the science.
Founded in 1955, Easter-Owens is family-owned and has been working with Crusoe since 2020. Around 70 Easter-Owens staff will join Crusoe, which currently has about 172 staff.
Crusoe plans to hire more staff and invest in more equipment and technology, continuing to use Easter-Owens' two factories and storage space, which total 87,322 sq ft.
Although now owned by Crusoe, Easter-Owens will still deliver on existing orders and look for new contracts from other firms.
"Crusoe and Easter-Owens have worked together closely for several years, and we see many strategic opportunities through the integration of Easter-Owens' design and manufacturing capabilities into Crusoe's business," said Crusoe co-founder and CEO Cully Cavness. "I have a great deal of respect for the Easter family and know that the decision to sell their business was made with much care and attention to the culture and mission of the acquiring company."
Crusoe currently has around 100 modular data centers in Montana, North Dakota, and Colorado and plans to expand in the US and internationally. It has launched Crusoe Cloud - a computing platform to sell capacity, but much of the computing it has powered has been used for Bitcoin, a cryptocurrency widely denounced as a waste of energy.
"Cully, Chase, and the Crusoe team are building an innovative and important business in our hometown of Denver that aligns with the values and culture of Easter-Owens and the Easter family," said Easter-Owens' CEO, Dave Easter. "I am very happy that Easter-Owens' team will be part of this fabulous company and couldn't be more excited for their future with the Crusoe family."
Another modular maker, MCFI, recently announced that it is working on projects in South Dakota with a partner that matches Crusoe's description, but asked DCD not to mention the Crusoe name.