A data center owned by GE Appliances is available for lease in Louisville, Kentucky.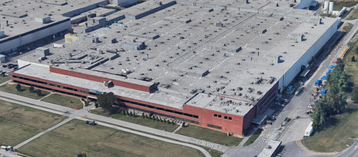 JLL this week said it has been tapped by the company to market for to lease the data center located at 4000 Buechel Bank Road in the 750-acre GE Appliance Park in Jefferson County.
Sat on 47 acres, the single-story facility, known as the GE Data Center, spans a total of 53,385 sq ft (4,960 sqm) with 14,350 sq ft (1,333 sqm) of raised floor (expandable to 20,000 sq ft/1,860 sqm). The facility was built in 2010/2011 and offers a total capacity of 1.35MW, expandable to 2.7MW.
JLL said the building currently contains two data halls; one data hall is built and active, while the other hall is a roughed-in shell space. The data center currently offers rack density of up to 14kW, reportedly expandable to 24kW. AT&T and Lumen offer fiber connections to the property.
The site is also Platinum LEED certified.
Sean Reynolds, managing director and co-leader of JLL's Midwest Chicago Data Center Services, told DCD the site "offers excellent infrastructure above market density ready to use today, in a growing Louisville market with limited colocation supply."
Headquartered in Louisville since the 1950s, GE Appliances was originally a part of General Electric. It was due to be sold to Swedish appliance manufacturer Electrolux in 2014 but the deal fell through. The company was then sold to KKR and Chinese appliance maker Haier in 2016; the company has the rights to use the GE brand name until 2056.
Another GE-occupied data center in Cincinnati, Ohio, was acquired by Carter Validus in 2017, with the conglomerate set to lease the facility until 2027. Mapletree Industrial Trust has since taken ownership of the facility.
Update: An earlier version of this story said the data center was 'for sale or lease', based on the marketing materials provided to DCD. It has since been updated to reflect that the facility is only available for lease.