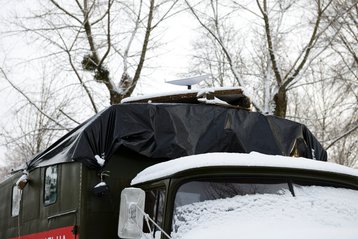 The latest donation of these terminals has been confirmed by Ukraine's Minister of Digital Transformation Mykhailo Fedorov, who noted this on his official Telegram channel, as reported by Teslarati.
It adds to the recent 8,000 terminals that were sent to Ukraine by neighboring Poland earlier this month.
This also follows a recent decision by the German government to send 14 of its Leopard 2 tanks to support Ukraine's ongoing war with Russia.
Ever since Russia invaded Ukraine in February 2022, Elon Musk's SpaceX subsidiary Starlink has sent thousands of its terminals to the country to support its troops with critical comms on the frontline.
This has been aided by the US government which has helped to fund the donations, giving SpaceX millions of dollars in the process.
In October of last year, Musk did state that SpaceX could not afford to "indefinitely" continue its support of providing Starlink terminals to the country, claiming that it would exceed $100 million in costs by the end of 2022.
He instead asked the US government to fund the supply of Starlink terminals. However, following a lot of pushback, Musk reversed these calls and tweeted that his company would continue funding this.
To date, SpaceX has supplied Ukraine with over 25,000 of its Starlink satellites, as confirmed by Ukraine's head of state service for special communications and information protection Yurii Shchyhol.