Industrial and logistics real estate firm Goodman has opened its Goodman Tsuen Wan West precinct in Hong Kong.
The new data center development comprises four buildings totaling 1.6 million sq ft (148,640 sqm) of space and will reportedly offer up to 400MW, according to Mingtiandi.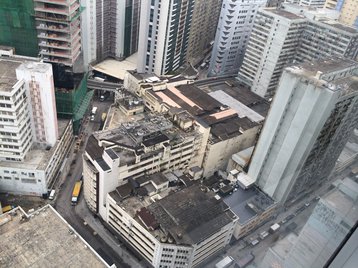 Goodman acquired the disused Central Textiles factory site in 2014 for a reported HK$1 billion (then $129 million). The first two buildings are now completed and fully leased by two of Goodman's 'major global customers.'
The remaining two buildings are currently under construction and will complete in 2024. Overall, the precinct is 87 percent committed to major global data center and technology customers.
Kristoffer Harvey, CEO Greater China, Goodman Group said: "Goodman Tsuen Wan West is the latest showcase of our commitment to urban regeneration, while meeting the surging demand both locally and regionally for high-tier data centers, technology infrastructure and emissions reduction objectives. This development combines our focus on optimizing our properties for people and technology, helping deliver the infrastructure shaping the development of the digital economy in Hong Kong and the Greater Bay Area."
One of the future data center customers may be Vantage. On its website, the company lists Tsuen Wan West as a future location. The company said it will offer 700,000 sq ft (65,000 sqm) and 48MW across a 39,000 sq ft (3,600 sqm) footprint.
"Our Tsuen Wan West purpose-built data center will be located in Hong Kong's industrial and commercial district with access to various forms of public transportation," Vantage's page states. "Once fully developed, the data center will offer customers 48MW of capacity spread across 12 data modules of 4MW each. The first phase, which will include 12MW of IT capacity, is scheduled to be online in 2024."
Goodman builds business parks, industrial and warehouse/logistics space, and data centers. Google bought space in Goodman's Tokyo Business Park in 2019. The company is working with STT GDC to build two data centers in Tokyo.
Goodman is one of a number of logistics & warehouse industrial real estate firms looking to move into or expand their existing presence in the data center space. The likes of Prologis, Segro, GLP, ESR, P3, and others are also looking to develop facilities in the US, Europe, and Asia Pacific.
ESR has plans to build a data center ecosystem across the APAC region and is in the process of converting a cold storage facility in Hong Kong into a 40MW data center, and also has plans for a 20MW data center in Tokyo.
More in Construction & Site Selection