Google has bought 109 hectares of land in the Avesta municipality in the Dalarna region of Sweden, 160 kilometres north-west of Stockholm.
The company, which is rapidly expanding its European data center presence both for internal use and for Google Cloud, said that it acquired the land as a potential data center location, but has no immediate plans to use it.
Backup land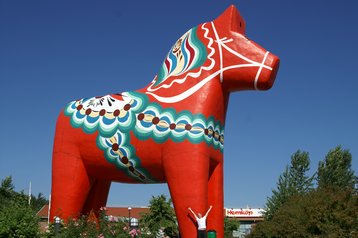 "We have acquired a 109-hectare property in Horndal, Avesta Municipality," Google's regional communications manager Farshad Shadloo told The Local after the story was made public by Swedish publication DN.
"We currently have no plans to develop this site but we do want to ensure that we have options to expand our data center presence in Europe if our business demands it. We don't expect to take any decision on this in the near future."
Avesta Municipality said that they were "proud and happy to be chosen as the preferred location," adding: "Avesta has a long tradition of being one of the key industrial cities in Sweden. Our history and geographic location in the heart of Sweden, excellent infrastructure and access to a skilled workforce in the area have been important ingredients presented to the company."
The Local reports that Google does plan to add basic infrastructure to the site, such as roads and electricity access, but little beyond that.
In Europe, Google operates multiple data centers in Ireland, Finland, Belgium, Germany, the Netherlands and the UK. It also owns 73.2 hectares of land in Denmark, being considered as a data center location, and has recently acquired a large area of land in Luxembourg for a potential $1 billion project.
The Swedish government has sought to aggressively court data center investment in the country. Late last year, it cut the electricity tax for data centers by some 97 percent, and in April Amazon revealed it would open three data centers in Sweden after being encouraged by government-backed organizations Invest Stockholm, Business Sweden and Data Centers by Sweden.