Google's public cloud platform outdid Microsoft Azure and Amazon Web Services in terms of growth in the first quarter of 2017, according to a Synergy analysis of IaaS, PaaS and hosted private cloud revenue reports released yesterday.
Joining the big boys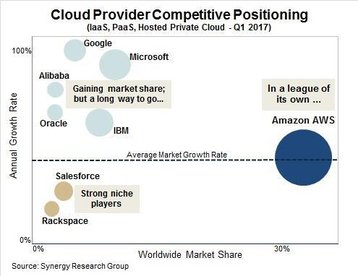 Synergy published a graph showing Google's IaaS growth nearing 50 percent year-on year, closely followed by Microsoft and trailed by Alibaba, Oracle and IBM. All five players' revenue increased more significantly than AWS, although Amazon's cloud platform still holds a 33 percent total market share. 
Alphabet subsidiary Google's Cloud Platform - amongst a number of other companies including British AI company DeepMind and self-proclaimed technology incubator Jigsaw - is the company's fastest growing revenue source, including income from its core advertising business. In contrast, Google's ad revenue rose by approximately 20 percent year-on-year.
Google's veteran engineer Urs Hölzle recently stated that he expects the company's cloud revenue will eventually represent a larger share of Google's income sources than advertising.
Going in for the kill 
Google relies on having a dense fiber network and redundant infrastructure to compete with other providers. Sensing opportunities where others failed (outages, data losses) Google has rolled out applications centered on security and reliability.
Amongst these is Google Spanner, a tool initially designed to synchronize the company's databases across the world using GPS and atomic clocks, allowing customers to access vast databases from anywhere, reportedly with single digit millisecond latencies.
Also launched recently are Google Cloud DLP (data loss protection), which scans documents and uses AI to detect potential illegal data breaches and Identity Aware Proxy, which uses hardware tokens and IT controls to ensure application security, all of which are based on services initially developped for internal purposes.
Additionally, the IaaS arm has made a number of targeted acquisitions such as the Google Cloud teaching app Synergyse and cloud-based software sales platform Orbitera.
The game isn't over yet 
Amazon was the early bird to catch the worm with AWS, having capitalized on large organizations seeking to transfer operations from data centers to the cloud. It was then joined in its pursuit by Microsoft, whose wide web of industry contacts gave it a leg up on the market.
When Google launched its Cloud Platform, the company chose to target SMEs rather than go for bigger players, but now counts major customers such as Snap, eBay and HSBC - although the latter also uses AWS and Azure.
Diane Greene, SVP of Google Cloud since 2015, recently said that the company has a "pretty good shot" at becoming the number one cloud provider by 2022. It is more likely however that the IaaS' rapid growth still has a way to go before it can realistically compete with AWS and Microsoft Azure.