American colocation specialist H5 Data Centers has deployed a solar array on its data center campus in Denver, Colorado.
The entire output of a 478kW system will be used to power customer equipment and help reduce energy bills.
The array is part of a $10 million investment aimed at improving energy efficiency of the Denver campus.
Colorado sunshine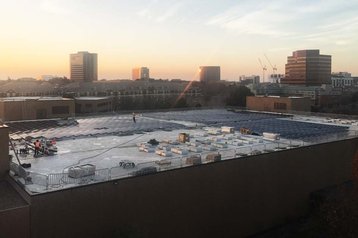 H5 is a privately-owned company that operates data centers in Ashburn, Atlanta, Charlotte, Cleveland, Denver, Phoenix, San Jose, San Luis Obispo and Seattle, and has recently acquired a carrier hotel in Cincinnati. Overall, it has nearly 2 million square feet of real estate under management.
The campus in Denver Tech Center was originally built by United Airlines. Today, it comprises four buildings totaling nearly 300,000 square feet, including two independent, concurrently maintainable Tier III data centers, each with separate mechanical and electrical systems.
H5 says the solar system, supplied by renewable energy specialist REC Solar, is expected to generate a total of 23 million kilowatt hours of renewable power within its life cycle - enough to supply nearly 2,650 homes in Colorado with electricity for a year.
"H5 Data Centers continues to make investments across our national footprint to improve the reliability and efficiency of our data centers," said Josh Simms, founder and CEO of H5 Data Centers.
"We are committed to providing reliable, long-term data center solutions for our customers. Not only will our customers realize a much higher percentage of solar power in their energy mix, but also we expect overall power costs at the Denver data center to be more economical in the future."