The Haarlemmermeer municipality is one step closer to lifting a ban on data centers that began a little under a year ago.
The Haarlemmermeer Board endorsed the "main points" of a Dutch Data Center Association-backed data center policy proposal. A six week consultation period is to follow, after which an update policy will be will be submitted to the Haarlemmermeer council, for a vote after the summer.
The region is next to Amsterdam (which has its own moratorium), and is often seen as Amsterdam from the perspective of data center builders. It is home to Schiphol Airport, the site of several data centers.
"The Amsterdam trajectory and timeline is very similar," DDCA policy officer Judith de Lange told DCD. "We expect a similar communication about the Amsterdam municipality next week; we are confident that this 'vote' will be with the same outcome as the one from Haarlemmermeer."
Opening up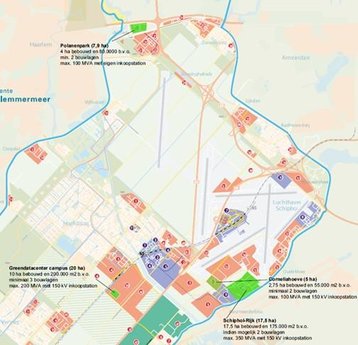 The proposal, in its current form, will see the Haarlemmermeer commission specifically designate a number of business parks as areas where data centers can establish and expand - with all other land and business parks excluded (pictured).
The municipality will allow moderate growth and concentration of data centers until 2030, after which 'there will no longer be space available in the municipality for data centers.'
"Given the economic importance and the growth ambition of the sector, this policy is urgently needed. Because the college considers spatial quality of great importance, we have included strict conditions for the establishment of data centers in our municipality. Only the most innovative, sustainable and green data centers are welcome," Alderman Marja Ruigrok (Economic Affairs and Innovation).
"Space in Haarlemmermeer is scarce and our landscape is of great value," councilor Mariëtte Sedee (Spatial Development) added.
"We want to handle this carefully. We are an attractive municipality for housing, business and recreation, and we want to remain that. With this data center policy, we can manage the locations and conditions for the establishment of data centers. And that gives us a grip on space."
Six alderpeople and the mayor were involved in the board meeting that agreed to proceed.
The policy "will be published in two weeks' time," de Lange said.