Hewlett Packard Enterprise, the Texas Advanced Computing Center, NTT and a Japanese government agency have teamed up on 'Hikari,' which they call the world's first solar powered supercomputer.
In actuality, Hikari - which is being used to calculate biology applications to help solve the Zika epidemic - on average used renewable sources for more than 30 percent of its power, and managed 100 percent during some daylight hours.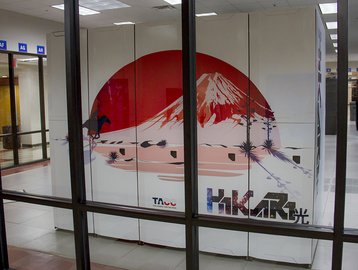 Marvel at DC power
The University of Texas supercomputer was created in a partnership between TACC, HPE, NTT Facilities and the New Energy and Industrial Technology Development Organization (NEDO) of Japan as part of a demonstration project to show off the potential of High Voltage Direct Current (HVDC) data centers.
"Because the solar panels are wired directly to the computer, Hikari runs basically on free energy, in the most efficient and sustainable way," Nic Dube, CTO for HPC at Hewlett Packard Enterprise, said. 
"If you look at the dashboard for Hikari, you can see that the real-time energy performance of this system outperforms any other platform on the planet."
The supercomputer uses HPE's Apollo 8000 warm water cooled server, along with DC battery systems, DC air-conditioning and DC lighting that uses about 200,000 watts of DC power.
Dube added that as the photovoltaic array is high-voltage DC source that provides power straight to a high-voltage DC computer there is no energy lost on AC-DC conversion. 
"During the day, energy produced by the solar system feeds straight into the computer. At nighttime, when the PV array does not create energy, the Apollo system switches to an AC-based grid. It's the best of both worlds," Dube said.
Dan Stanzione, executive director at the Texas Advanced Computing Center, said that Hikari is a large-scale experiment to run a production-scale data center entirely on DC power. 
"We were looking at how to incorporate HVDC in the most efficient water-cooled racks on the planet (Apollo 8000) and how to incorporate renewables. The plan is to provide real evidence at a production scale to help improve data centers for years to come."
The team is currently working on measuring DC power and the amount of power saved from HDVC distribution system.