Hewlett Packard Enterprise plans to reduce staff as server sales dipped due to supply chain disruptions and economic woes.
The company said it would "realign the workforce" and cut costs over the next three years, but did not disclose how many jobs were at risk. The plan is for the company to save $1bn by the end of fiscal 2022, and $800m on an annualized run rate.
A difficult time for many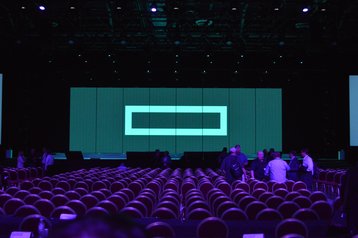 "So, by and large, we're going to leave no stone unturned. That's the message," CFO Tarek Robbiati said in an earnings call (via Seeking Alpha).
"But, effectively, if you look at what the plan is about, it's fundamentally around realigning resources to the segments that we started to report back in the first quarter and areas of growth that we see driving better productivity levels across those segments, changing fundamentally the way we engage with customers from a marketing and sales standpoint, rethinking our supply chain to create it in such a way that is more resilient than before, yet agile and efficient, rethinking also our workforce management practices. Because quite frankly... we've been working very effectively from home for the past three months almost. And so, this is pointing to us the need to think about this new normal and what does it mean from a workforce management standpoint, and our real estate footprint.
"So you can rethink your real estate footprint now that the world is much more distributed and connected than ever before."
From July, all staff members where it is legally permitted will receive a pay cut through October 31, 2020, with the executive team allegedly taking the largest percentage reduction. For staff in countries where there are no restrictions, the company is implementing unpaid leave. External hiring has been restricted, and salary increases are on hold. The Board of Directors will forgo an undisclosed percentage of its cash compensation for the year.
HPE expects the layoffs and other cost-cutting initiatives to cost it $1bn-1.3bn over the three years.
"It definitely was a tough quarter by every measure and I'm disappointed in the performance, but I don't see this as an indication of our capabilities," HPE CEO Antonio Neri told Bloomberg.
"This was clearly driven by supply chain disruptions because of coronavirus," with a shortage of chip components from China, logistics disruptions, and lockdowns.
"We ship pretty much three servers every minute," Neri said on the earnings call. "So, when that supply chain stops, it's pretty significant."
High-performance computing was hit particularly hard, because the company has to install the systems themselves. "The impact on HPC was two-fold - not being able to go to customer sites because customers were locked down like we are, and not being able to install and deliver and turn it on."
Moving forward, the company expects business to return to normal levels, with cloud and enterprise sales "steady." Small to medium business sales may be slower to bounce back, with those companies at greater risk of Covid-19 damaging their revenue.
The next quarter in particular will see shipments focused on "cleaning the backlog" of orders that couldn't be fulfilled this time due to the supply chain issues, Neri said.
Shares in the company fell six percent, and are down 35 percent from the start of the year.