Hewlett Packard Enterprise (HPE) has demonstrated a server prototype that combines VCSEL photonics, specialized SoCs, massive amounts of persistent memory linked into a 'memory fabric' and an optimized operating system to dramatically outperform current generation data center hardware.
This marks the first outing of The Machine – HPE's effort to re-architect data center infrastructure by shifting the emphasis from CPU to memory.
As we've reported before, The Machine is not a single product, or even a collection of products – it's more of a research project that aims to serve as a test-bed for innovative technologies and could have an impact on how HPE develops its servers going forward.
"This milestone in The Machine research program demonstrates that Memory-Driven Computing is not just possible, but a reality," said Meg Whitman, CEO of HPE. "Working with this prototype, HPE will be able to evaluate, test and verify the key functional aspects of this new computer architecture and future system designs, setting the industry blueprint for the future of technology."
The prototype was demonstrated at the HPE Discover conference in London.
Seeing is believing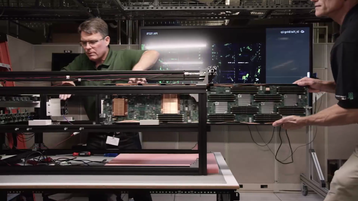 The Memory-Driven Computing prototype was designed by Hewlett Packard Labs, research arm of HPE. The demonstration involved a metal case filled with Terabytes of memory, about twice the depth of a standard server rack. Memory modules were attached to something HPE calls a 'memory fabric' – an expansion technology that relies on photonics to enable large memory pools to be shared across the server cabinet, and eventually across the data center.
The system was running a modified version of Linux on a customized System-on-a-Chip. HPE claims this prototype can chew through certain workloads up to 8,000 times faster than a generic server.
The current generation of the architecture relies on standard DRAM, but future versions are sure to involve byte-addressable non-volatile memory, set to appear on sale sometime between 2018 and 2019. Future versions ware also likely to replace VCSEL photonics with true silicon photonics.
"We have achieved a major milestone with The Machine research project – one of the largest and most complex research projects in our company's history," said Antonio Neri, executive vice president and general manager of the Enterprise Group at HPE.
"With this prototype, we have demonstrated the potential of Memory-Driven Computing and also opened the door to immediate innovation. Our customers and the industry as a whole can expect to benefit from these advancements as we continue our pursuit of game-changing technologies."