Huawei has deployed a modular data center for China Mobile in Xi'an, China.
The new facility was deployed in the historic northwestern city in order to deal with an influx in mobile data caused by tourists. In a recent video, Huawei said it delivered a facility consisting of 938 cabinets in six months.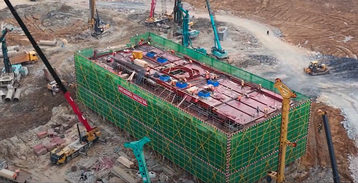 China Mobile first established a data center campus in the city in 2015 and is the company's main data hub in the region.
The new data center was divided into 232 modules, with the equipment prefabricated and pre-installed in a factory. After completing the initial preparation, the modules were assembled on location. The new facility spans five floors.
Huawei said this approach reduced construction waste and dust by 80 percent, and resulted in a material recovery rate exceeding 80 percent. It said an equivalent data center constructed traditionally would take eight months to construct, and 10 months would be required for equipment installation, commissioning, and acceptance.
The data center uses Huawei's FusionCol indirect evaporative cooling, and can be naturally cooled for around 10 months of the year due to the cool local climate.
Huawei recently delivered a pre-fabricated modular data center for Safaricom as the telco begins to ramp up operations and launch a mobile network service in Ethiopia.
As well as being the starting point for the Silk Road and the Terracotta Army of Emperor Qin Shi Huang, Xi'an is home to semiconductor manufacturers including Samsung and Micron.