Huawei Marine has begun work to determine the appropriate route for a submarine cable system across the Gulf of California, which will improve connectivity in La Paz, Mexico.
The network - codenamed the La Paz project - commissioned by Mexican ISP and mobile service provider Megacable, will connect the tourist destination and capital of the Baja California Sur state with Topolobampo, a small town in the municipality of Ahome.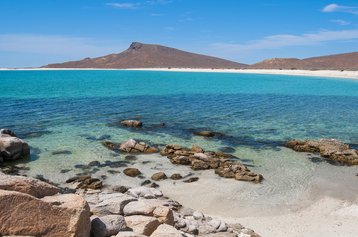 Vamos a la playa
A marine (or hydrographic) survey involves assessment of the chosen location for a particular application - in this case, the laying of a submarine cable, but it applies to oil rigs and all manner of marine navigation and construction projects - and is a crucial step in the development of any cable system. It follows on what is known as a desktop study - the analysis of geological, biological, climate-related and legislative factors to decide how best to proceed.
Running its 24 fiber pairs across approximately 250km (155 miles) of marginal sea, the system's bandwidth capacity is expected to peak at 192Tb/s.
Huawei Marine, a joint venture between Huawei and Global Marine Systems established in 2009, said the cable would improve the stability and help reduce latency of communications in the area, as existing aerial solutions are subject to higher failure rates than their submarine counterparts.
The system is expected to be operational in the second quarter of next year.
"With the La Paz project Huawei Marine's technology and service capabilities are once again recognized by customers in Latin America," said Zhaofeng Chen, Huawei Marine's planning design director.
"The terrain and environment in the Gulf and Peninsula region is complex and places high requirements on the design and construction of the submarine cable. Huawei Marine's rich experience in working on difficult projects around the world will ensure the Topolobambo – La Paz project will be completed smoothly."
As well as the La Paz project, Huawei Marine is taking part in much larger submarine cable systems: the Pakistan East Africa Cable Express (PEACE) system, a 6,200km cable which will land in two Pakistani cities (Gwadar and Karachi), Djibouti, Somalia and Kenya; The Mauritius and Rodrigues Submarine Cable System (MARS); and the South Atlantic Inter Link (SAIL), which will soon connect Cameroon and Brazil.
According to the most recent timeline update on the company's website, as of 2017, it was working on four new systems and 10 upgrades.