Malaysian property developer Hatten Land is to partner with Huawei to develop data centers and other digital infrastructure in the country.
Under the new agreement, announced late last year, Hatten's wholly-owned subsidiary Hatten Edge is to partner with the Chinese technology giant and jointly explore and develop opportunities in 'cloud computing and enterprise intelligence, renewable energy, data centers, and fintech infrastructure' in the city of Melaka (previously Malacca) and the surrounding region.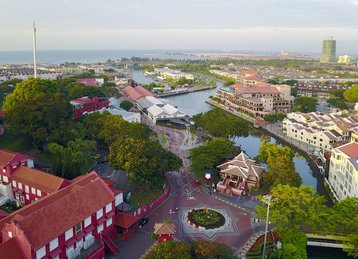 "Huawei endeavors to share its world-class expertise and cutting-edge technology in cloud and enterprise intelligence with Hatten to co-design and co-market innovative cloud products and services, including gaming cloud solutions," the companies said in an announcement. "The Hatten-Huawei partnership will also focus on the joint development of eco-friendly data centers in Melaka to support Hatten's ongoing digital initiatives and cater to the surging demand of data centers from cloud service providers in the region."
The companies said they also plan to develop large-scale solar facilities in the region; Hatten's first solar project will see it install more than 6,000 solar panels on the roof of the Dataran Pahlawan Melaka Megamall in 2022 and utilize Huawei's smart inverters.
Hatten Land is the development arm of the Hatten Group. Traditionally focused on residential, hotel and commercial developments, this is seemingly the company's first foray into data centers. The Hatten Edge subsidiary was only incorporated last month and no further information about the new company is seemingly available.
The company said it plans to "pivot its business model towards blockchain-related and digital economy trends." These digital opportunities reportedly include building a digital twin city of Melaka which will include NFTs, tokens, and other digital assets using blockchain and initiatives supported by Huawei's cloud infrastructure.
"The Huawei-Hatten partnership is a strong and uniquely complementary combination. Huawei's expertise in innovation, technology, and complex digital product integrations, and Hatten's established track record and business network in Malaysia and the region will allow us to build the next generation of cloud solutions, digital platforms, and renewable energy solutions," said Dato' Colin Tan, Executive Chairman and Managing Director of Hatten.
Rex Lei, Managing Director of Huawei Cloud Singapore, added: "Huawei Cloud is excited to be working with Hatten to support its digital-related ventures. We believe our technology and innovation will help with the multifaceted needs Hatten has for its strategic pivot."