Huawei is to develop three data centers across Indonesia for Aesler and the two companies have already begun work on the first facility.
The Chinese technology company and Filipino architecture firm signed an agreement to develop the facilities late last year, and work has already begun. The company aims to launch the first facility later in 2022.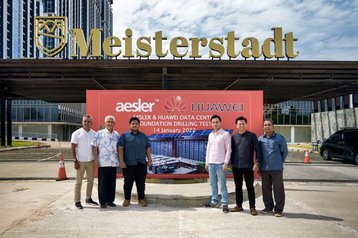 Founded in 2010, PT Aesler Grup Internasional Tbk is an Indonesia-based architecture and engineering consultancy company. The companies aim to develop a series of 'eco data centers' under the AESLER-GREENIX moniker totaling around 88MW. Huawei will provide the Indonesian Stock Exchange-listed company with prefabricated data center modules to build the facilities.
"By focusing on eco and green energy for data center development, we are committed to our target to become the largest green technology data center provider to welcome Indonesia Digital Era 5.0," said Jang Rony, President of Aesler Group and founder of AESLER-GREENIX.
The first facility will total 16MW and 2,500 racks with a Power Usage Efficiency (PUE) of 1.4. The second facility will also have 16MW of capacity, while the third facility will have 56MW.
Aesler and Huawei have already broken ground on the first project – known as Mark 1 – to be located in the Meisterstadt area of Batam, part of the Riau Islands. The company said the facility will be able to withstand earthquakes up to 9 MMI (Mercalli intensity scale, equivalent to around 6.9 on the Richter scale).
It's unclear if the other two projects will be on the same campus or located elsewhere in the country, and timelines for those projects weren't shared.