Norwegian cruise company Hurtigruten is deploying Starlink terminals on its ship.
This week Hurtigruten Expeditions said it is implementing SpaceX's satellite broadband service Starlink across all ships in cooperation with connectivity partner Speedcast.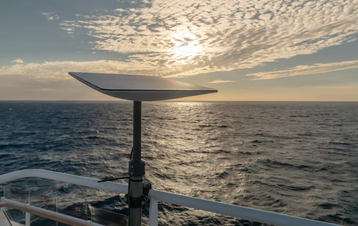 "As the world leader in exploration travel, it's only fitting that we bring the world's most innovative technologies onboard our ships to further enhance the experience and day-to-day lives for our guests, crew, partners, and the communities we visit", said Hurtigruten Expeditions CEO Asta Lassesen.
"We've seen major players announcing plans for implementation of Starlink connectivity. Our partnership with Speedcast and fleetwide introduction of the new service not only puts us ahead of the rest of the cruise industry, it also puts us ahead of the technology. When Starlink introduces maritime coverage in Antarctica and the Arctic, we will be ready," added Lassesen.
Speedcast and Hurtigruten Expeditions began testing and integration of Starlink terminals onboard the fleet of small-size expedition cruise ships in March. The installation is due to be completed in October. Starlink is slated to introduce Antarctic maritime coverage in Q4 2022
"With vessels operating in some of the most remote and spectacular areas of the world, Hurtigruten Expeditions is an ideal partner for introducing groundbreaking technology in the cruise industry. Speedcast's expertise lies in our ability to combine all available connectivity paths and manage a complete service that offers the highest levels of uptime, availability, and performance", said Joe Spytek, Chief Executive Officer at Speedcast.
Though it has been focused on consumers and has traditionally been lagging behind rival satellite firm OneWeb on the wholesale side, in recent months SpaceX has doubled down on its distribution deals with telcos and communication providers.
Last month it signed a distribution deal with maritime communications firm Marlink – which also has a deal in place with OneWeb – as well as cruise liner provider Royal Caribbean.
The satellite service is set to be deployed across the Royal Caribbean's full fleet by the end of the first quarter of 2023. Starlink will provide high-speed Internet on board for passengers after successful trials.
The service will launch on September 5, beginning with a ship called the Celebrity Beyond. The Edge-Class cruise ship entered service earlier this year and has capacity for almost 4,000 passengers alongside 1,400 crew.
Other wholesale agreements signed by Starlink include T-Mobile, US Air Force, Speedcast, Hawaiian Airlines, and private plane provider JSX. Until this year, Starlink's only B2B deal had been a backhaul agreement with KDDI in Japan.
By comparison, OneWeb has signed distribution with more than two dozen firms globally to date.
Founded in the late 1800s and based in Oslo, Hurtigruten offers passengers ferries, cruises, and shipping services in Norway, as well as cruise ships to Antarctica, Iceland, the Mediterranean, Latin America, and elsewhere. As of 2020, Hurtigruten AS operates 16 ships in its fleet.