For all the attention lavished on the cloud today, the reality is that many organizations are running hybrid IT, observed John Duffin, Uptime's managing director for South Asia, as he alluded to the complex blend of cloud and non-cloud deployments enterprises are currently grappling with.
"Therefore, how [can organizations] cope with on-premises, the cloud, and whatever assets [they] need to run [their] businesses?" he asked. John Duffin was opening the panel discussion at the launch event of this year's DCD>Southeast Asia in September, which saw the key themes for the upcoming conference unveiled for the first time.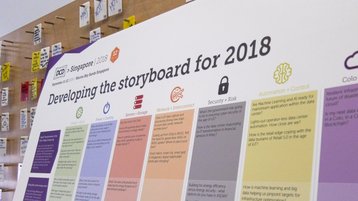 Drivers of growth
Panelist Christophe Maisonnave of HP Enterprise agreed with Duffin, noting that hybrid cloud expertise is currently "quite in demand". He said: "A lot of organizations that we meet are trying to figure out how to manage the complexity [of the hybrid cloud]. They know how to manage each of the silos [cloud, hyperscale deployments] well, but they are trying now to understand how they are going to automate the jump from in-house to colocation data center, to public cloud infrastructure."
It was quickly apparent that there is no one key driver for growth in Singapore and the region, but multiple disparate drivers contributing to the growth of the data center market here.
Demand for centralized data centers will only grow with increasing deployment of IT, said Johnny Zheng ZhiQiang, an IT integration services solution architect at Huawei who predicted a rise in edge facilities: "As more equipment is deployed to support technologies such as big data and data analytics, the size of centralized data centers will definitely grow."
He saw demand for edge data centers, as the impending rollout of 5G results in the deployment of hundreds, or even thousands of edge facilities. "Singapore may be too small for edge data centers. But if you consider [regional] countries like Indonesia, The Philippines, there will be huge demand there," said Zhang.
Bernie Trudel, chairman of the Asia Cloud Computing drew attention to the cloud when he pointed to Singapore's number one ranking on the Cloud Readiness Index 2018. He credits this to the new standards and initiatives established to maintain the country's leadership in cloud computing. "[Singapore has] become the central place across Southeast Asia, where companies and industries want to keep their data," said Trudel.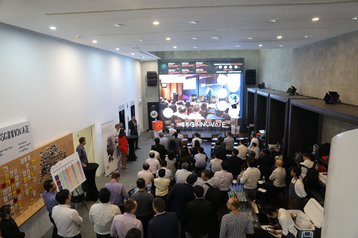 The rise of hyperscale
"I think the hyperscale and the cloud will be the reality… The cloud is growing exponentially, we need to provide [the] infrastructure to cater for the cloud," said Jose Castaneda of hyperscale provider AirTrunk, who defined hyperscale facilities as those with capacities of 50MW or more, as well as being integrated with cost efficient solutions for scalability and smart energy.
Similar to how carrier-neutral data centers were once considered the linchpin to data center success, Castaneda called for the establishment of cloud-neutral data centers: "The need now is to create cloud-neutral data centers to provide for the ecosystem, an ecosystem where different cloud providers can coexist, and also where the players can connect to the cloud, and I think that is a big driver for hyperscale and cloud in Asia Pacific."
"Like most of the world, what we're seeing in Singapore is it is being driven by hyperscale cloud demand. Singapore has great network richness, it has a strong population, it has a strong enterprise; all of that is attractive," said Tom Duncan, the executive director at CBRE in Singapore. And while things are "slower to pick up" in the wider region due to jurisdiction, Duncan has no doubt that it will come.
"The markets in [Southeast Asia] are too big to be ignored, latency is too critical. If you want to service your end-user customers, the most important thing as a business is being able to meet their needs. You have to go to them. Expect to see [the hyperscale cloud] expanding over the next 12 to 18 months," he said.
And this may well already be happening in South Korea, according to Maisonnave: "We are seeing huge growth in South Korea. It is incredible. We are planning the equivalent of 300MW of IT power in a single data center. This is what I call hyperscale."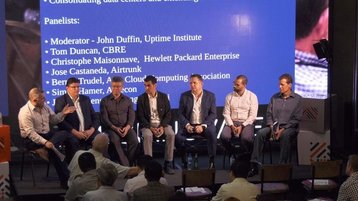 What of legacy facilities?
For all the talk about going larger, more energy efficient facilities, what of yesteryear's data centers – of which there are a growing number in the data center hub of Singapore? Or as Duffin puts it: "What hope is there for a two megawatts data center in Singapore that is now 10 years old?"
"A lot of current demand is hyperscale cloud. The physical nature of that demand is very different from the legacy buildings constructed 10 years ago. Slab to slab [height], floor loading, it's all an issue," noted Duncan as he summed up the challenges. "Essentially it is all down to the network. If the network is there, then it can survive as a data center. Without network or access to network, it is extremely difficult."
Simon Hammer, the Asia data center lead and client manager at Aurecon agreed that the crux of the issue has to do with how wired up a facility is: "If the network's there, they've got submarine cables there, they've got every point of presence, and the industry's there, the Internet exchanges are there, they are going nowhere."
"You need to step back, look at it, really what is this asset to me. "If you have one customer, two megawatts, and you're off a metro network – fine, knock it down. [But] if you've got 50 customers with submarine cables, networks, edge deployments from major ISPs, full meet-me rooms – it's staying. It's as simple as that," he said.
Moving ahead
Despite its head start, at least one panelist felt that more needs to be done if Singapore wants to position itself as a hub for hyperscale deployments in the region. Duncan sounded a note of caution as he puts the spotlight on the comparatively small plot sizes and development ratios in the island nation: "It is challenging to get anything of significant GFA that you need to deliver hyperscale in Singapore due to government regulations."
"Yes, we have [hyperscale facilities] here, obviously, a lot of them have their main hubs in the region in Singapore. However, the [full] definition of a hyperscale data center doesn't exist and would be very tricky under current legislation," he said.
Still, there are some key factors going for Singapore as a data center hub. Duffin summed them up in his opening remarks: "Among South Asia, Singapore is almost unique in having a data center certification around energy efficiency: The Green Mark. And it really pushes people to do things. Also, the SS 564 standard as well, as a continual improvement process is unique in Asia, and almost unique among the world."